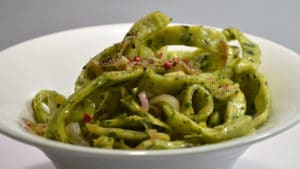 Parsley Tagliatelle Recipe
Summary : It's been a long time since I planned these beautiful colored tagliatelle with flat parsley; they were not only beautiful but deliciously scented with that aromatic herb that is present in all kitchens. I had a friend Emmanuelle who came to eat at the house, for the first time, I made her my tagliatelle with parsley as a starter. You know my love for fresh pasta, with us we eat it at least once a week. I slightly modified the technique of the pasta, at least when I was not in a hurry. I no longer dry my pasta, I cooked it (as soon as I finished cutting it) at a low boil. At the end of cooking, after having drained them, grease them a little either with butter or with olive oil. You will also notice that I cut my parsley tagliatelle with a knife, no pasta machine for this recipe.
Recipe of Tagliatelle with parsley for 4 people:
Ingredients
300 gr of flour
3 eggs
3 g of salt
½ tablespoon of olive oil
50 g parsley
Salt and pepper
Instructions
Rinse the flat parsley with plenty of water.
Dry it in a clean cloth or food paper.
Remove the leaves from the parsley, save the stems for a soup.
Chop the parsley as finely as possible with a knife or food processor.
Prepare the homemade dough for the tagliatelle by following the link, incorporating the parsley.
Film then leave to rest, but at room temperature, 30 minutes.
Flour the working dish lightly.
Spread the fresh marbled dough as finely as possible.
Cut rectangles the size of the tagliatelle.
Remove excess flour, so that they stay green.
Roll the rectangles around the rolling pin.
Place the roll of fresh dough on a cutting board.
Slice the tagliatelle as regularly as possible.
Store the tagliatelle on a drying rack, the time to cut them all.
Heat a large volume of salted and oiled water.
Immerse the tagliatelle in the volume of boiling water.
Lower the heat, the water should just make small bubbles.
Cook for 5 to 8 minutes.
Drain the tagliatelle, as soon as you have obtained the desired cooking.
Pour the tagliatelle into a salad bowl.
Add the chosen fat and soak the pasta well.
Mix your pasta from time to time so that it does not stick.
Repeat the operation until they are cold.
All you have to do is reheat them in a pan before serving them.
Preparation time: 30 minutes
Cooking time: 5 to 8 minutes
Number of people: 4
4 star rating: 1 review
What wine to drink with: Tagliatelle with parsley
My favorite wine for this recipe: Alsace Sylvaner Cépage Sylvaner
Temperature between 08 ° and 10 °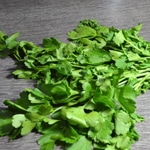 Wash the flat-leaf parsley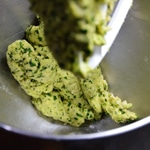 Prepare the dough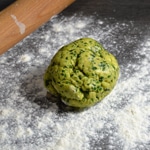 Let stand a little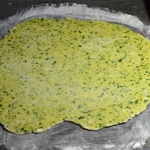 Roll out the dough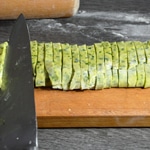 Cut with a knife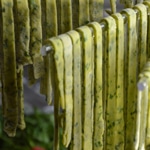 Let dry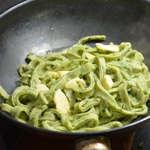 Grease the tagliatelle with parsley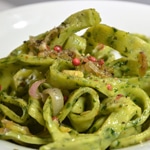 Zoom<img src="/wp-content/uploads/2021/09/369493343185767725.jpg" class="aligncenter"