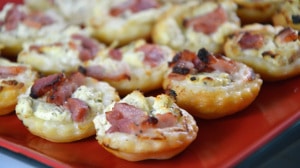 Recipe: Cheese Puff Pastry with Herbs
Puff pastry recipe with cheese with fine herbs, ideal to accompany a small aperitif, for me it will be a little white barely fruity. I love these little puff pastry bites where you can vary in a thousand ways, play with tastes, play with colors. At home for each aperitif with guests I make new puff pastry recipes and of course I will share them with you. Puff pastry with fine herbs, I tested them with a cheese without brand and not expensive at all and frankly the result was bluffing. The guests love this kind of treats and frankly fed up with those dry cakes that come from our food industries. And I'm not talking about peanuts or crisps! No, a little originality in your aperitifs.
Recipe ingredients
Herb cheese puff pastry recipe for 90 reductions:
2 puff pastry rolls
300 g of bacon
600 g cheese with fine herbs
2 tablespoons of sour cream
½ teaspoon of poppy seeds
1 egg yolk
Pepper and salt
Instructions
Roll out the puff pastry then cut the prints.
Place each impression in the mold.
Flatten the dough and prick the bottom with a fork.
Season the cheese with salt and pepper.
Stir the cheese strongly to make it more fluid.
Spread the edges of the tarts with the egg yolk.
Put the cheese in a pocket fitted with a nozzle.
Place a knob of cream cheese in each imprint.
Add two bacon bits per Tartlet.
Sprinkle lightly with poppy seeds.
Place in a hot oven at 200 ° for 15 to 17 minutes.
Preparation time: 30 minutes
Cooking time: 17 minutes
Number of pieces: 90 mini pieces
4 star rating: 1 review
What wine to drink with: Herb pastry
My favorite wine for this recipe: Riesling Grape Riesling
Temperature between 08 ° and 10 °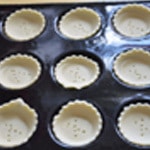 Prick the dough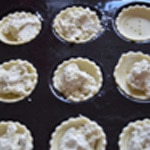 Top with cheese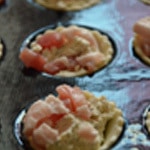 Add the bacon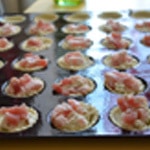 Ready to cook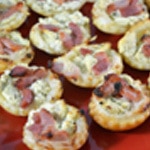 Cooked