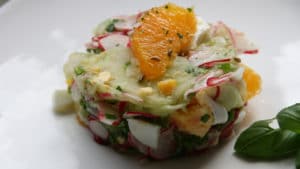 Radish salad
Radish salad recipe, with the arrival of spring and the heat, radishes are in the spotlight. A seasonal pink radish salad with the acidity of oranges. Easy to make summer recipe, a fresh salad, full of color and taste, with orange juice, gives new flavors. I like chewable radishes, often just before eating, I always leave some in the kitchen ready to eat and everyone can bite the radishes at will. I really liked this radish salad recipe with its freshness and crunchiness.
Ingredients for the radish salad recipe for 4 people
1 bunch of pink radish
1 cucumber
1 tablespoon of fennel seed
2 oranges
1 bunch of basil
4 eggs
1 lemon
3 tablespoons of olive oil
Instructions
Rinse all the vegetables.
Cook the eggs for 11 minutes, then cool them under water.
Cut off the green stems of the radishes and the end of the radish. Slice the radishes with a fine grater mandolin.
Peel the oranges, collecting as much juice as possible, and mix with the radishes.
Rinse the bunch of basil, then dry it with food paper.
Cut hard-boiled eggs into cubes, mix all the ingredients.
Drizzle with the lemon juice and olive oil.
Season the salad with salt and pepper.
Assemble your salad with a circle.
Preparation time: 20 minutes
Cooking time: 0 minutes
Number of people: 4
4 star rating: 1 review
What wine to drink with: Radish salad
My favorite wine for this recipe Rosé fronton Grape variety: Negrette, Côte noir, Fer Servadou
Temperature between 11 ° and 12 °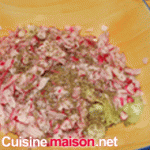 Cut the radishes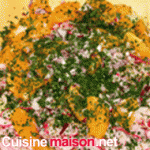 Chop the basil
Zoom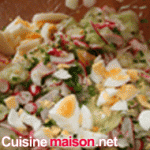 Cut the eggs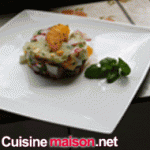 On a plate