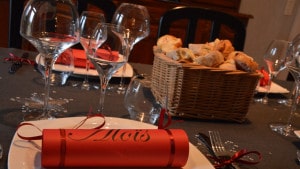 Yesterday's table (Thank you Léonie)
December recipes
Tomorrow is December 1st, like every year, it is the best time to visit cooking sites. More than 2 million connections, it is important not to miss it, because it is the month of all connections. This year my son, who manages this site with his company Digital effervescence, put the pressure on me, telling me that it would be good to put two recipes a day all the month of December.
So I'm going to upload a recipe for the end of the year celebrations every morning at around 11:30 a.m. and at the end of the afternoon around 6 p.m. on cookinemaison.net .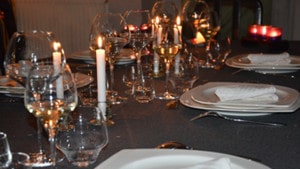 Last Saturday's table (thank you Florence)
Aperitif (spicy red beetroot, duck rillettes, sardine rillettes in oil)
Starters (Foie gras and porcini ravioli, Langoustine broth, hot oysters, etc.)
Fish (Cod with white butter sauce, shark low temperature cooking….)
Game meat in the spotlight (Doe stew, Leg of boar confit …)
Garnish (Celery puree with hazelnuts….)
Desserts (Meringue and chocolate with praline hazelnuts, all chocolate dessert …)
Homemade bread (homemade bread, bread with green olives, Comté bread and bacon).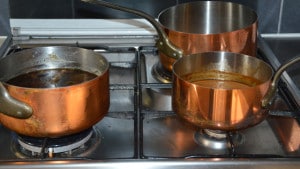 It gets hot in the kitchen
But I will go even further, I will offer you on December 12 two complete menus for the end of the year celebrations, with a calendar to organize you as well as possible and free you as much as possible, in order to enjoy your friends. I will also devote a lot of time to answer your questions, which you could ask me in comments via my website cuisinemaison.net.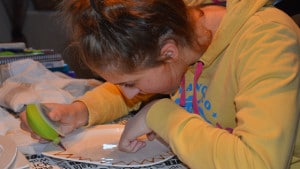 All to contribute
Good preparations to all for the end of the year celebrations. At home we have been in full swing since the beginning of October and we have already concocted two end-of-year meals….
If you like the recipes from cuisinemaison.net, please click on like, or better to share on Facebook.
More recipes:
My meal for Christmas

Green olive tapenade

Meringue sphere

Meringue and chocolate sphere Pascal
Hide reactions

After all that it only remains for me to wish you good luck my dear pascal! You will be on the knees !! But what luck we have !! lots of love

To be followed with great indulgence. A big thank you

Wow, I can't wait to see this !!! I am looking for a little inspiration.
Kisses and see you tomorrow then !!!

So, see you tomorrow to lick my lips! lots of love

well you will be super present and I love it, pascal kisses

I can't wait to see it all !!! kisses
Your reactions / questions / tips: Cancel reply
Remark
Name *
Email *
Website
</p