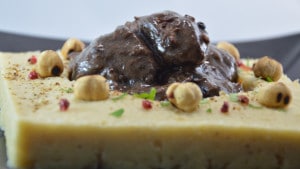 Recipe: Doe stew
Instructions
Doe stew recipe, at home nobody hunts, so it is difficult for us to get game. Although living in a customary hunting region, no hunter was called to order. It is my friend and butcher from Vesoul Sam who has a storefront, who is responsible for providing me. A nice piece of haunch, lean meat to perfection. It was already very appetizing, I knew I was going to make a great recipe. An ideal wine sauce for this kind of game, it goes wonderfully with a wine of character. Cooking at low temperature will allow the meat to stay soft, you will be surprised by the result. I let the sauce reduce a little so that it was even smoother. This doe stew is an easy recipe to make, and is best suited for a year-end meal. In addition it remains a very affordable meat for the price, you will love this meat in sauce.
Recipe ingredients:
Doe stew recipe for 12 people:
1.600 kg of doe shoulder
2 bottles of Syrah
1 teaspoon ground pepper
5 juniper berries
5 bay leaves
2 country chest bands
2 tablespoons of Sauceline for brown sauce
2 tablespoons of flour
1 tablespoon of lard
1 onion
4 cloves
2 carrots
Instructions
Cut the meat into small cubes.
Peel and cut the carrots into large slices.
Peel the onion, then cut in half.
Prick the onions with cloves.
Cut the smoked breast into large pieces.
Pour the wine over the meat.
Add the peppercorns, berries and bay leaves.
Leave to marinate for 1 or 2 hours in the refrigerator.
The next day, wiped the meat with food paper.
Preheat the oven to 120 °.
Sear the meat in the lard to color it.
If the game rejects too much water preventing the meat from searing, remove the water, but keep it there.
Flour the game and toast the flour.
Pour all the wine into the casserole dish.
Bake in the hot oven for 2 hours 30 minutes.
Let the sauce reduce a little by removing the lid of the casserole dish.
Sprinkle over the sauceline to further thicken the sauce.
Serve in hot plates, which you will have left in the oven at 80 °.
I served this doe stew with celery puree, click.
Preparation time: 40 minutes
Cooking time: 2 hours and 30 (s)
Number of people: 1
4 star rating: 1 review
What wine to drink with: Doe stew
My favorite wine for this recipe: Syrah Cépage Syrah
Temperature between 14 ° and 17 °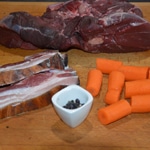 Peel the carrots
Cut the meat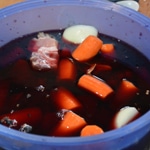 Prepare the marinade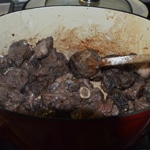 Grill the meat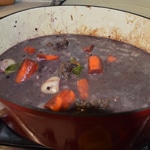 Cook the stew