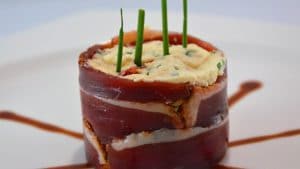 Dried duck breast terrine recipe with spices
Dried duck breast recipe with spices, a great starter for a hot day. Very fresh, this terrine of dried duck breast with spices has its most beautiful effect, I loved to present it. An easy recipe to make. The fairly spicy duck breast coating the bush cheese divinely perfumed this beautiful terrine. I like to prepare these dried duck breasts with spices every year. They always have a great effect for aperitifs. You will be able, according to your desires, to raise more or less this beautiful terrine. Be careful to taste the cheese preparation well, you will notice that I did not salt my preparation simply because my duck breasts were already salted. You absolutely need stainless steel circles to make this dried duck breast terrine with spices. If you are using glasses, don't forget to put baking paper at the bottom of your verrines to be sure you can unmold them.
Dried duck terrine recipe with spices for 3 people:
Ingredients
300 gr of raw milk bush cheese
½ Dried duck breast with spices
11 gr chives
6 petals of dried tomato.
½ small shallot
1 tablespoon of white balsamic vinegar of Modena
Pepper
Instructions
Thinly slice the dried duck breast with spices,
Cut baking paper at the height of the stainless steel circles.
Circle the paper inside the circles.
Place the duck breasts inside, compressing them a little so that they adhere well to the wall.
Chop the chives, reserving a few sprigs for decoration.
Finely cut the sun-dried tomato petals.
Peel and finely chop the shallot.
Mix the Brousse cheese with the chives, shallot and sun-dried tomato.
Pepper generously.
Add the white balsamic vinegar.
Taste the preparation and rectify if necessary.
Half fill the circles with the cheese mixture.
Place a green olive in the center of the circles.
Finish filling with the cheese preparation, in order to hide the green olives.
Place in the refrigerator and unmold just before serving.
Preparation time: 20 minutes
Cooking time: no cooking
Number of people: 3
4 star rating: 1 review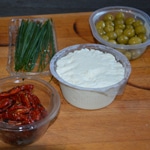 Ingredients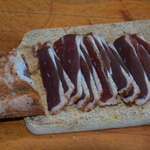 Slice the duck breast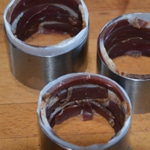 Paste the slices of duck breast
Mix the ingredients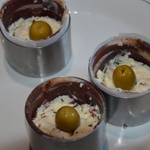 Paste the slices of duck breast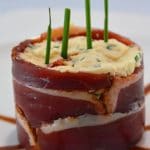 Dried duck breast terrine with spices
What wine to drink with: Dried duck breast terrine with spices
My favorite wine for this recipe: Montagne Saint Emilion Cépage Merlot, Cabernet Franc and Sauvignon
Temperature between 15 ° and 16 °
Partnership with Château Arbo in Montagne in Gironde
A thought to all those connected from France or abroad in love with French cuisine and its wines, here is a great opportunity for you to buy a quality wine, without any risk, to accompany my recipe for magret terrine dried with spices. I selected this Bordeaux wine from a Saint Emilion mountain from the Château Arbo estate after tasting it, I loved it.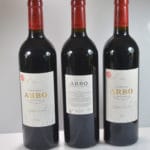 Montagne St Emilion Château Arbo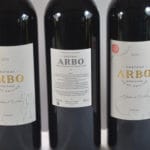 Montagne St Emilion Château Arbo Zoom
Montagne Saint Emilion 2015 Château Arbo
With its slightly dark ruby color, supported by powerful and ripe tannins, an aromatic palette ranging from black berries to red fruits ending with some peppery, even spicy notes. He really likes to be decanted, with the temperate region this Saint Emilion mountain is at 15 °, respect.
Arbo Castle
1 The Haute Faucherie
33570 MOUNTAIN
Phone 07 83 29 91 66
Email hello@chateau-arbo.com </p