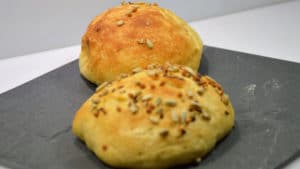 Hamburger Bread Recipe
Summary : I've been asking me to make hamburgers for a long time, I hesitated several times before giving it a try. Today is the big day we go to American time, be careful if hamburger bread comes directly from the United States, I will keep the privilege of making French sauces. You have noticed it at home we love bread in every sense of the word, every two weeks I present you a new bread and I have a few copies on standby, today it's hamburger bread that is at honor, of course will follow a hamburger recipe with this bun, but I keep the surprise for you, shhh… .. So meaty people, here is a great opportunity to give your burgers nobility with this bun so different from the one that one finds in the trade. Tomorrow, I present to you my first homemade hamburger.
Hamburger Bread Recipe for: 10 loaves
Ingredients :
500 g flour types 65
200 g of water at 20 °
100 g of liquid sourdough
75g egg yolk
16 g fresh baker's yeast
8 g of fine salt
25 g powdered milk
35g sugar
50 g softened butter
50 g sunflower oil
2 tablespoons of sesame seeds
Instructions
Start around 8:30 a.m. for the end of cooking around 12:30 p.m.
Add the flour, water, baking powder, salt, sugar, powdered milk, baking powder and egg yolks.
Mix 5 minutes at low speed, then 7 minutes at high speed.
Stir in the softened butter and oil.
Mix for another 3 minutes.
Watch out for projections
Form a ball and cover with a slightly damp cloth.
Let it grow for an hour, the dough will gain volume.
Flour the work surface.
Divide the dough into 10 pieces of equal weight.
Roll them up to give them a nice round shape.
Let sit for 15 minutes.
Preheat the oven to 170 °.
Pour the sesame seeds into a deep plate.
Brush the dough pieces with oil on top.
Return them to the sesame plate.
Then place them in the honeycomb plates.
Cover with a damp cloth and let stand for 2 hours.
Pour 5 cl of water in the oven and put the buns in the oven; cook for 14 minutes.
Preparation time: 30 minutes
Cooking time: 14 minutes
Number of people: 10 buns
4 star rating: 1 review
What wine to drink with: Hamburger bun
No particular wine with this recipe, because it is the dish that will define the wine.
Source: Le Larousse du pain by Eric Kayser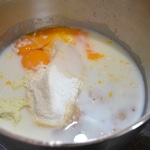 Mix all ingredients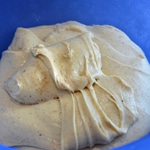 Let it grow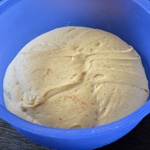 The preparation to double in volume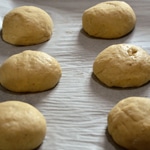 Buns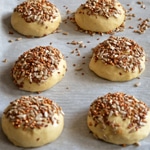 Add the seeds