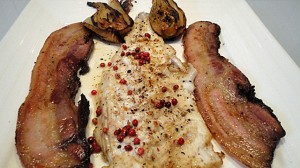 Recipe: Sea bass fillet with bacon
Recipe for roasted sea bass fillet with smoked brisket, it has lightly scented my fillet of sea bass. A new sea bass fillet recipe, I received a friend who loves fish. A fish recipe that changes from the classic here flavored with smoked breast and red berries, a nice plate. Sea bass fillet or sea bass fillet, each region has its own appellation, we do not often have the opportunity to taste it in our region.
Recipe ingredients
Bacon fillet recipe for 2 people:
1 bar
2 thick breast fillets
1 teaspoon of red berries
Salt and pepper
Instructions
Slice the smoked bacon.
Heat a pan and place the slices of smoked breasts.
Reserve the bacon in a hot oven at 8o °
Place the fillets in the pan under a light heat with the fat from the smoked bacon.
Baste the fillets regularly with a large spoon, without turning them, until they are cooked.
Sprinkle the pink berries just before serving.
Heat the plates and place the cooked fillets with the bacon strip on the sides.
Enjoy hot.
I served them with candied fennel.
Preparation time: 0 minutes
Cooking time: 0 minutes
Number of people: 2
4 star rating: 1 review
What wine to drink with: Sea bass fillet with bacon
My favorite wine for this recipe: Bellet blanc Cépage Vermentino, Chardonnay
Temperature between 08 ° and 09 °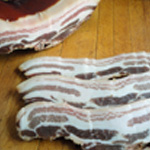 Cut the breast do not slice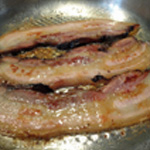 Grill the breast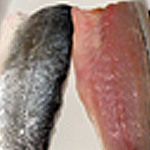 Rinse the bar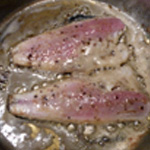 Grab the bar, without turning it over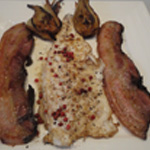 On a plate