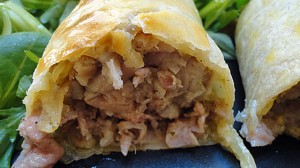 Recipe: Crusted andouillette
Cook the andouillettes in the oven, cooking the andouillettes with mustard. Andouillette in a puff pastry crust, bake the andouillettes in the oven just to brown the puff pastry. A mustard sauce to accompany the andouillettes.
Recipe ingredients
Recipe Andouillette in a crust for 4 people
4 andouillettes
250 g of puff pastry
4 tablespoons of mustard
2 onions
25g butter
15 cl of dry white wine
1 egg yolk
Instructions
Remove the casing from each andouillette.
Peel and cut the onions into thin slices.
Heat a pan with the butter, then brown the onions to cook them, add the white wine.
Let reduce so as not to have any more liquid.
Cut the puff pastry so that it can be covered around the andouillette.
Spread a spoonful of hot mustard per andouillette, using a fork upside down.
Place part of the onions along the length of the andouillettes.
Place the andouillettes on top of the onions, then finish covering the andouillettes with the onions.
Cover the andouillette with the puff pastry, revealing the ends of the sausage.
Pour a little water with your egg yolk, and pass the egg over the crust.
Place in a hot 160 ° oven for 15 to 20 minutes depending on the oven.
Preparation time: 10 minutes
Cooking time: 15 to 20 minutes
Number of people: 4
4 star rating: 1 review
What wine to drink with: Andouillette en croute
My favorite wine Crozes hermitage Grape variety: Syrah
Wine temperature 16 ° to 17 °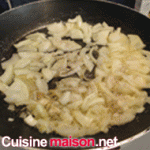 Sear the onions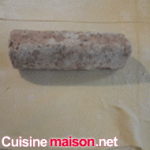 Remove the skin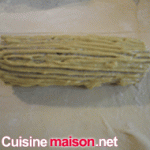 Spread the mustard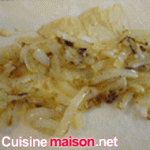 Place the onions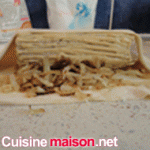 Place the andouillette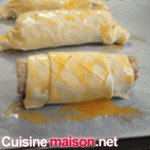 Roll up the dough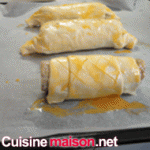 Ready to cook
Section view