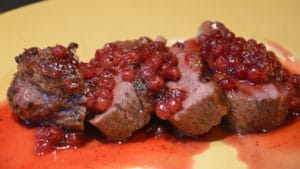 Duck breast with currants recipe
Summary : Recipe for duck breast with currants, I like the mixture of sweet and savory and I find that the duck breast lends itself perfectly to this kind of recipe. The currants will bring a little acidity to this dish, we will eat our duck breast with pink currants and the meat will be very tasty. Baking allows you to have a nicely browned duck all over and not to burn, respect the cooking times and you will be convinced by this process. You still have to sear the duck breasts in the pan to give them a nice color .
Recipe ingredients
2 duck breasts
125 gr currants
10 cl of white wine
Instructions
Cut the skin of the duck breasts without touching the flesh.
Sear skin side down in a hot pan for 2 to 3 minutes, season with salt and pepper.
Turn the duck over to sear it.
Place the duck breasts in an ovenproof dish.
Collect a teaspoon of duck fat and pour it into the dish.
Bake in a hot oven at 200 ° for 10 minutes for a pink meat, add a few minutes depending on the desired cooking.
Wrap the duck breasts in aluminum foil and let them rest for 4 to 5 minutes.
Pour the reduced juice from the oven dish into the pan.
Add the currants and wine to deglaze well.
Slice the duck breast collecting the blood.
Mix the blood with the prepared sauce.
Serve on hot plates.
Preparation time: 10 minutes
Cooking time: 12 to 15 minutes
Number of people: 4
4 star rating: 1 review
What wine to drink with: Duck breast with red currants
My favorite wine for this recipe California Sauvignon (smoked white) Grape variety: Sauvignon blanc.
Temperature between 09 ° and 11 °