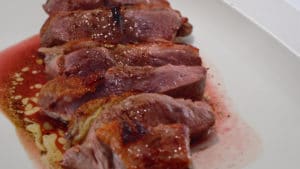 Honey Duck Breast Recipe
Duck breast with honey. For this recipe I chose the so-called oven duck cooking, I particularly like the pink duck breast, see almost raw in the center, on the other hand my daughter likes it well cooked and we always manage to find something to suit our feet . I hesitated for the duck breast sauce between balsamic honey and an orange honey, this time it was the fruit that won, but I will present you later a recipe for duck breast with balsamic honey. Of course for cooking duck breast with honey you can also cook it in a pan, but I remain convinced that pan and oven is ideal, in any case for me the cooking is duck breast with oven and from afar. Duck remains one of the favorite meats of the French and duck breasts are often part of end-of-year dishes. Associated with French gastronomy, duck breast has become well democratized in recent years, it can be found at all prices. Thanks to the producers and to all their efforts for the quality and the prices, recipe for Duck breast with honey.
Honey duck breast recipe for 4 people:
Ingredients
2 duck breasts
2 tablespoons of honey
2 oranges for juice
½ spoonful of Séchouan peppercorns
½ teaspoon of coarse Guérande salt
Instructions
Cut the skin of the duck without touching the flesh, apply yourself because this will give the fun of your duck.
Crush the berries and Séchouan pepper, with the coarse salt.
Peel the oranges raw, then make the supremes.
Extract 2 tablespoons of orange juice.
Heat a thick, dry pan.
Gently lay the breasts skin side down to begin for 3 minutes.
Turn the breasts over using tongs so as not to prick them and cook for 2 minutes.
Place the duck breasts in a baking dish.
Spread the honey on the duck breasts
Place half of the supremes on the duck breasts.
Sow half of the salted pepper directly on the duck breast.
Bake the duck breasts in the oven for 15 minutes.
Wrap the duck breasts in aluminum foil, then set aside in the turned off oven.
Deglaze the baking dish with the juice taken from the oranges.
Cut the duck breasts, then arrange the supreme crus and sprinkle with pepper.
Preparation time: 10 minutes
Cooking time: 15 minutes
Number of people: 4
4 star rating: 1 review
What wine to drink with: Duck breast with honey
My favorite wine for this recipe: Pic saint loup rouge (Languedoc Roussillon) Grape variety Cinsault, Carignan, Grenache noir
Temperature between 15 ° and 16 °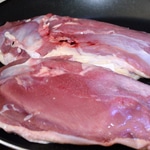 The duck breasts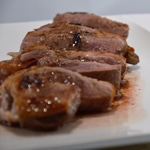 Cooked Magrets