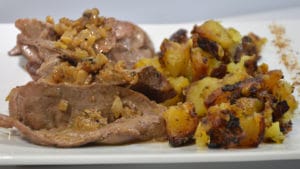 Duck Aiguillette with Armagnac Recipe
A recipe during periods of foie gras… .. I keep my foie gras all the time when I fry a foie gras, it keeps for a very long time in the refrigerator, well I admit that at home it does not have time to get damaged. Aiguillette of duck with foie gras fat, I love the evening, alone with my daughter, this beautiful gourmet plate. I regularly store my fatty liver fat for cooking. I always have duck aiguillettes in my freezer, they thaw in a few minutes and can be ready at the last moment when a friend arrives, he will love your Duck Aiguillette with foie gras fat. With a good, sun-drenched red from the south of France, you'll love this easy-to-make recipe.
Duck aiguillette recipe with foie gras fat for 3 people:
Ingredients
40 g of duck foie gras
300 g of duck aiguillette
1 small shallot
15 cl of Gewurztraminer
2 cl liquid cream
3 nice potatoes
1 small onion
10 sprigs of flat-leaf parsley
4 cloves of garlic
Instructions
Peel the potatoes, dry them with food paper then cut them into small cubes.
Peel 3 cloves of garlic, then finely chop them.
Wash then finely chop the parsley.
Add the fat to the cast iron casserole dish.
Grill the potatoes under a fairly high heat, lower the heat as soon as they are nicely colored.
Season generously with salt and pepper.
Peel off the potatoes with a wooden spoon regularly and allow to grill well.
Peel the small shallot and the last clove of garlic, then finely chop them.
Sear them in a pan with a tablespoon of duck fat.
Add the duck aiguillettes to the hot fat.
Sear 2 to 3 minutes.
Spread the aiguillettes around the edges of the pan.
Deglaze with the white wine, let reduce to ¾, add the cream.
Reduce by half over high heat.
Sprinkle the parsley over the potatoes 1 minute before serving.
Preparation time: 30 minutes
Cooking time: 30 minutes
Number of people: 3
4 star rating: 1 review
Which wine to drink with: Aiguillette of duck with foie gras
My favorite wine for this recipe: Côte du Lubéron red Grape variety Syrah and Grenache
Temperature between 15 ° and 16 °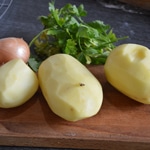 Prepare the vegetables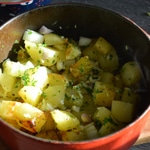 Start with the potatoes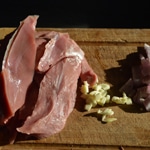 Parry the duck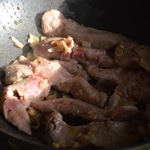 Sear the duck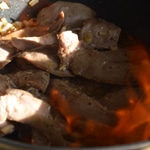 Let reduce