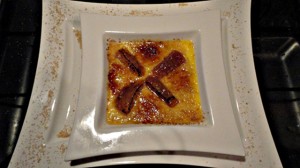 Recipe: Crème brûlée with peach
Peach crème brûlée recipe, with this fruit abundant in the markets and so juicy. Easy crème brûlée with peaches, a crème brûlée preparation with seasonal peaches, always the same cream base but we vary with the fruits. I have all of us asking for creme brulees, if I listened to them I would have to make them every week. Easy and quick recipe for a classy dessert.
Recipe ingredients
For peach crème brûlée for 4 people:
4 not too ripe peaches
3 egg yolks
1 packet of vanilla sugar
100 gr of powdered sugar
40 cl of fresh fluid cream
40g butter
4 tablespoons of powdered sugar
40 g salted butter
Instructions
Pass the peaches in boiling water for a few seconds, then peel them.
Slice the fruit into 4 equal wedges.
Add the egg yolks, liquid cream and sugar to a bowl.
Whisk to mix well.
Panner with 2 tablespoons of sugar on the peach quarters.
Heat the pan with the salted butter.
Place the breaded peach quarters in the pan and let brown over high heat, turn the pieces
Place the peach quarters in the crème brûlée molds.
Divide this preparation into your ramekins.
Place in a bain-marie with cold water at the start, oven at 220 °, for 30 minutes.
Take out of the oven as soon as the cooking is finished, leave to cool and put in the refrigerator.
Distribute the brown sugar.
Burn the creams with a torch.
Preparation time: 10 minutes
Cooking time: 30 minutes
Number of people: 4
5 star rating: 1 review
What wine to drink with: Peach crème brûlée
My favorite wine for this recipe: Alsace Gewurztraminer, Grapes: Gewurztraminer
Temperature: between 10 ° and 12 °
Thank you to Rosabel de Vesoul store for its dishes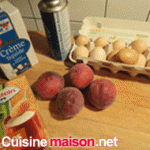 Ingredients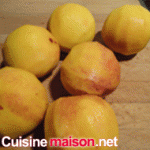 Peel the peaches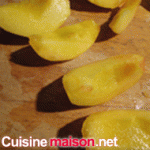 Cut into quarters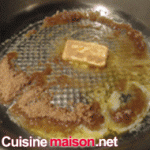 Heat the butter and sugar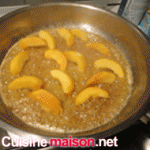 Seize the peaches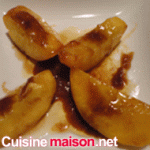 Tidy up the peaches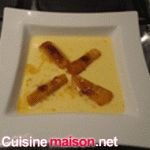 Ready to cook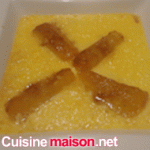 Cooked