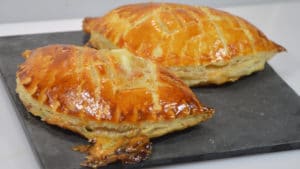 Ham Turnover Recipe
Ideal for a dinner, this little ham turnover is ready, in a few minutes, I had some homemade puff pastry left. Just out of the oven, we tasted it with a soup as a starter and a green salad to accompany the ham turnover, the goat cheese had made the preparation soft. It's an easy recipe to make, it's ready in a few minutes, you can of course freeze the turnovers before cooking them. I use, for this kind of recipe, white ham stubs that I buy in my store, it's always very interesting. I take more and more pleasure in preparing my homemade puff pastry (I never make large quantities of it) it keeps well filmed in the refrigerator, in any case several days without problem. I did not play with the spices because my daughter has a bit of trouble when it is too strong.
In two hours, I go back to the hospital for a short week, for a plumbing problem, I will be able to read your messages. But it will be difficult for me to answer. Kisses, see you soon
Ham turnover recipe for 4 people:
Ingredients
300 g of goat cheese puff pastry.
220 g white ham
2 eggs
1 yellow
80 g heavy cream
45 g parmesan
6 g chives
80 g of goat cheese
Instructions
Preheat the oven to 200 °
Chop the ham with the Parmesan.
Break the two eggs over the ham.
Finely chop the chives
Add the cream.
Salt and pepper.
Mix to incorporate all the ingredients.
Prepare the homemade puff pastry by following the recipe link.
Roll out the homemade puff pastry.
Cut the dough to the size of the pastry pan, leaving a little overflowing.
Add two small tablespoons of the ham mixture.
Add a slice of goat cheese.
Lightly wet the edges of the puff pastry with a little water.
Close the pastry mold by pressing the edges lightly.
Cut the edges of the turnover with a sharp knife.
Decorate the tops of the turnovers with the tip of a sharp knife.
Brush the top of the turnover with the egg yolk using a brush.
Place in a hot oven for 25 minutes.
Preparation time: 20 minutes
Cooking time: 25 minutes
Number of people: 4
4 star rating: 1 review
What wine to drink with: Ham turnover
My favorite wine for this recipe: Bourgueil Cépage Cabernet Franc and Sauvignon
Temperature between 15 ° and 16 °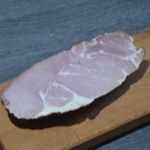 Slice the ham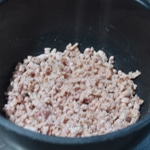 Mix the ham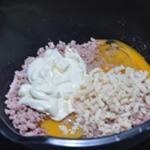 Mix the two ingredients
Roll out the dough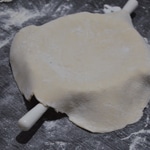 Place the dough in the molds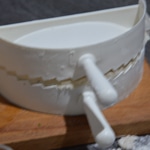 Cut around the edges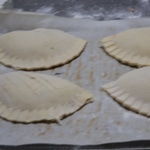 Brush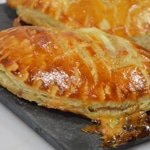 Zoom<img src="/wp-content/uploads/2021/09/4381232025655798913.jpg" class="aligncenter"