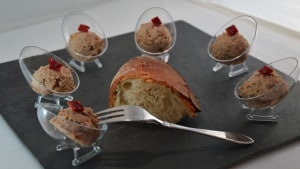 Recipe: Duck rillettes
Summary: Recipe for duck rillettes, it is always a lot of pleasure to present homemade duck rillettes to family or friends. I often take advantage of the end-of-year promotions of fatty ducks, to make this kind of recipes. I like to make big slices in country bread and to spread them generously with the duck rillettes. I deliberately make them not too fatty, but especially tasty to serve with a slightly dry white. I have already presented you with a lot of meat or fish rillettes, but it is mainly because I do not buy any cake for the aperitif and I never do the same thing twice. You now understand why I offer you so many choices for the preparation of your aperitifs. Duck rillettes for everyone to enjoy with a small sancerre and a good toast of country bread.
Recipe ingredients:
Duck rillettes recipe for 6 people:
10 fatty duck sleeves.
3 tablespoons of duck fat
1 chopped onion
2 cloves
1 large carrot
½ nutmeg
1 glass of dry white wine
2 glasses of water
Instructions
Peel the onion, then cut in half.
Prick each half of an onion with a clove.
Sear the sleeves in the duck fat.
Peel the carrot, cut into quarters and add to the duck.
Grate the nutmeg half on the sleeves
Salt and pepper
Pour in the wine and water.
Bake in the oven at 120 ° for 4 hours.
Crush the cooked meat with a vegetable press so as not to mix it.
Add, as you wish, the duck fat, incorporate into the preparation.
Taste and season more or less.
Leave your rillettes to rest for two days in the refrigerator.
Preparation time: 60 minutes
Cooking time: 60 minute (s)
Number of people: 6
4 star rating: 1 review
What wine to drink with: duck rillettes
My favorite wine for this recipe: Sancerres Sauvignon blanc grape
Temperature between 10 ° and 12 °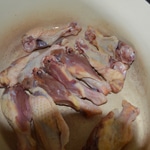 Duck sleeves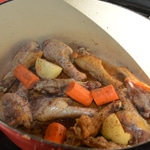 Color the meat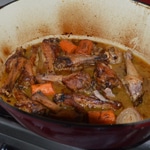 Cooked meats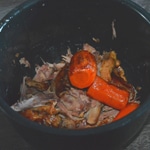 Sort the meats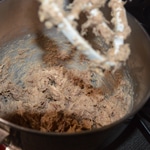 Strip the duck