Recipe: Venison terrine with cranberries and chanterelles
Venison terrine with cranberries and chanterelles. Here is a terrine of venison and pork married in a mixture of armagnac, white wine and spices, for a softer flavor. I flavored my terrine with fresh chanterelles, found in the woods of Franche Comté this morning . The lingonberries will bring a little exotic taste and will color this terrine in small doses.
Recipe ingredients
Recipe Venison terrine with cranberries and chanterelles for 10 people
450 gr of venison
100 gr of lean pork
150 gr of fresh pork
1 bard of terrine
1 tablespoon of grated ginger root
12 finely crushed juniper berries
1/2 nutmeg
¼ teaspoon ground cloves
10 cl of armagnac
20 cl of white wine
2 tablespoons extra virgin olive oil
100 g of chanterelle mushrooms, roughly chopped with a knife
1 beaten egg
4 tablespoons chopped flat-leaf parsley
1 teaspoon of fresh thyme leaves
10 peppercorns
1 small jar of lingonberries
2 shallots
1 onion
13 gr of salt
2 gr of white pepper
Instructions
Prepare the marinade 48 hours before cooking the terrine.
In a deep dish, place the pieces of venison cut into large cubes with the pork.
Add a peeled carrot cut into rings, an onion, a shallot cut into small pieces.
Add the thyme, ten peppercorns, ginger, juniper berries, cloves.
Grate a nutmeg.
Pour with the white wine and Armagnac.
Stir the meat from time to time during the time of the marinade to soak all the pieces.
Cover with new cling film after each opening.
Drain the meats and dry them with a cloth or paper.
Finely chop the pork and two-thirds of the venison.
Cut the last third will be cut with a knife into small cubes (1.5 to 2cm).
Mix the venison, pork, ginger, juniper, nutmeg, cloves,
Add salt and pepper.
Peel the chanterelles.
Heat the oil in a pan over medium heat.
Sear the mushrooms for about 5 minutes, stirring: they must first release their vegetation water, then reabsorb it.
Let them cool.
Stir in the mushrooms, egg, flour, parsley.
Prepare a terrine with a capacity of 1.2 l.
Line the terrine with the bacon bard.
Then tamp the preparation in after having mixed all the ingredients.
Smooth the surface with a spatula.
Cover with two layers of aluminum foil, pushing it lightly between the preparation and the edges of the terrine.
Preheat the oven to 180 ° C (th. 6), then bake and cook for 1 hour 15 minutes.
Take the terrine out of the oven and remove the aluminum.
Replace with two layers of parchment paper.
Ballast with two or three small cans: the cooking juices will rise to the surface.
Leave to cool, remove the cans, then set aside for 2 to 7 days in the refrigerator: the juice will turn into jelly. Take out of the refrigerator 10 minutes before serving, at room temperature.
Preparation time: 40 minutes
Cooking time: 1 hour 30 minutes
Number of people: 10
4 star rating: 1 review
Which wine to drink with: Venison terrine with cranberries and chanterelles
My favorite wine for this Saint Emilion (red) recipe Grape varieties: Cabernet franc; cabernet sauvignon, Merlot
Temperature between 17 ° and 18 °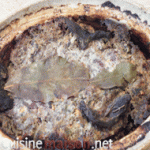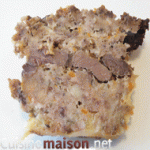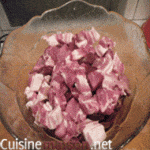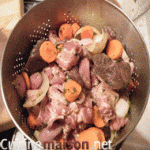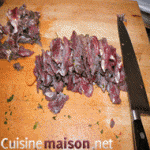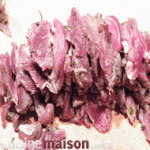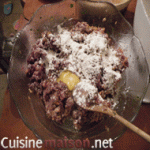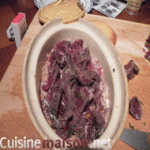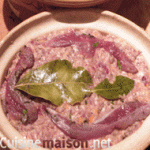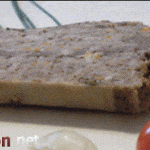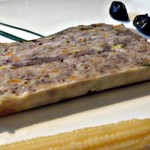 </p