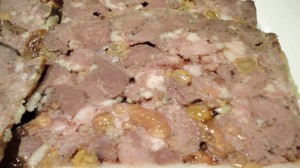 Recipe: Duck terrine
Terrine recipe. Duck terrine with blond grapes, a sweet salty terrine recipe, I adored these grapes which have macerated in Armagnac. Duck breast for a homemade terrine recipe, they were on sale. A lightly flavored duck terrine for the Easter holidays, the grapes will bring a little sweetness to this homemade terrine. Duck breast terrine, a tasty terrine that holds well and is easy to slice.
Recipe ingredients
Duck terrine recipe for 8 people:
750 g duck breast
300 g pork loin
200 g pork throat
100 g of chicken liver
50 g of blond grapes
3 tablespoons of armagnac
18 g of salt
3.10 g of gray pepper
1 teaspoon of paprika
Instructions
Cut the pork and poultry liver into small pieces.
Cut the duck into 1 cm cubes.
Chop the pork and the liver and the small pieces of duck.
Add the spices, mix the meat and spices well.
Respect the dosages of salt and pepper.
Mix the grapes after leaving them to soak for an hour.
Add the armagnac and mix.
Fill the terrine by tamping lightly.
Bake in a preheated oven, in a bain-marie for 1 hour at 150 °.
I always enjoy preparing these terrines as much as tasting them with friends. Slightly sweet with the blond reason I loved this peppery side.
Preparation time: 40 minutes
Cooking time: 1 hour 30 minutes
Number of people: 8
4 star rating: 1 review
What wine to drink with a duck terrine?
My favorite wine for this Côte du Jura recipe, Grape varieties: Poulsard, Trousseau; Pinot Noir
Temperature between 14 ° and 15 °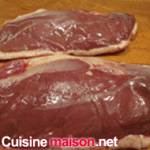 The magret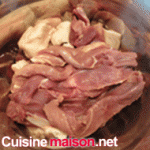 Cut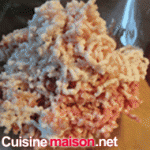 Chop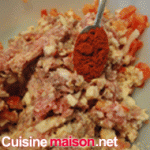 Spice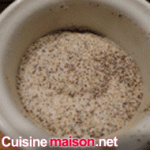 Salt pepper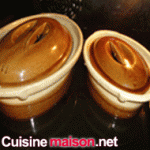 Pass in the oven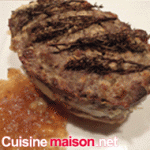 Cooked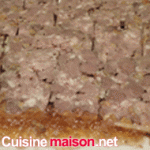 To slice