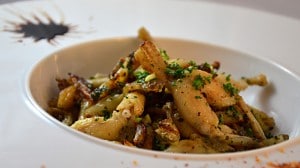 Recipe: Frog legs flambéed with armagnac
Recipe for frog legs flambéed with Armagnac, at home some people want to taste frogs on each visit. Yesterday was Christmas and we ate a few frogs on Christmas Day, in fact we ate only starters each chose one, well there were four of us. Well grilled frog legs, barely flambéed with an old Armagnac, which slightly scented the flesh of frogs.
Recipe ingredients
Recipe Frog legs flambéed with Armagnac for 4 people
4 dozen frog legs
½ bunch of parsley
1 tablespoon of flour
2 cloves garlic
2 tablespoons of olive oil
05 cl of Armagnac
40g butter
10 cl of Cream (optional)
Instructions
Peel the garlic.
Wash and hull the parsley.
Finely chop the parsley with the garlic.
Defrost the frog legs.
Dry the frog legs with food paper or tea towels.
Flour the thighs, distributing the flour well.
Shake the thighs to remove excess flour
Pour olive oil into a sauté pan and sear the frogs' legs for a few minutes.
Lower the heat and add the butter then let the thighs color.
Add the parsley and leave to toast and the cream if you have taken this option.
Salt and pepper.
Flambé the thighs just before serving.
Preparation time: 45 minutes
Cooking time: 5 to 8 minutes
Number of people: 4
4 star rating: 1 review
What wine to drink with: Frog legs flambéed with armagnac
My favorite wine for this Saint Joseph white recipe Grape variety: Roussanne et Marsanne
Temperature between 12 ° and 15 °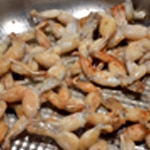 Grill the frog legs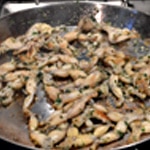 Add the parsley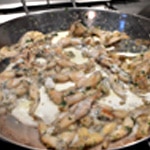 Add the cream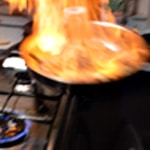 Flambé the frog legs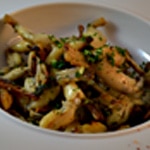 Zoom