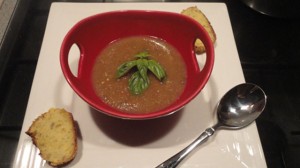 Recipe: Eggplant soup
Recipe for eggplant soup or eggplant soup, they are not too expensive in the markets. I spiced up my eggplant soup with a teaspoon of cumin. Soup recipe it's the season with the arrival of autumn, I love to change soup here recipe for eggplant tomato soup. A well spiced recipe with a different taste to start a meal, eggplant soup, an easy recipe to end the summer.
Recipe ingredients
Recipe for 4 people:
3 eggplants
20 cl of tomato coulis
3 cloves of garlic
6 sprigs of basil
2 teaspoons of ground cumin
1 tablespoon of olive oil
Salt
Freshly ground pepper
Instructions
Wash the eggplants.
Peel and cut the 3 garlic cloves in three lengthwise.
Prick each eggplant with three pieces of garlic.
Bake the eggplants in the oven at 210 ° for 20 to 30 minutes.
Check the doneness by inserting the tip of a knife into the eggplants, let cool.
Open the eggplants and collect the flesh with the garlic cloves.
Mix the flesh with the tomato coulis.
Add 25 cl of water.
Add the cumin, basil and olive oil.
Season with salt and pepper and serve as soon as it is hot.
Preparation time: 20 minutes
Cooking time: 30 minutes
Number of people: 4
4 star rating: 1 review
What wine to drink with: Eggplant soup
My favorite wine for this Côte de Provence blanc recipe: Ugny Blanc grape, Clairette blanche, Vermentino
Temperature between 08 ° and 10 °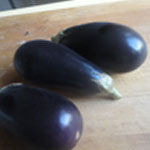 Rinse the eggplants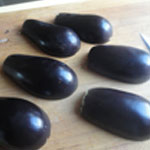 Split in half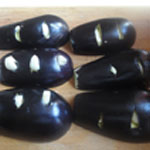 Prick with garlic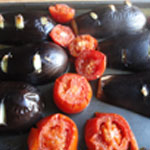 Cook in the oven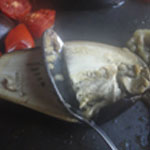 Recover the flesh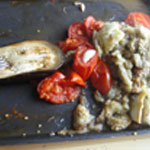 Tomatoes and eggplants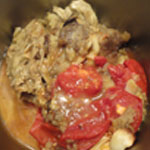 Add water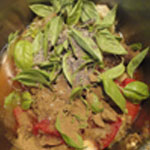 Add spices and herbs