I had at home a swarm of young girls not to say babies, the fun at home, the joy and the happiness! In addition … gourmets. So I took advantage of their coming to realize these Nutella financiers, which did not last long; young and old all loved it. Of course I could have made my chocolate dough, but they are still too small to be ecologically sensitive, well all in good time. It's a recipe from Cyril Lignac, a great pastry chef; what I liked about these Nutella financiers is, above all, their flavor and the ease of production. A great way to use egg whites. These Nutella financiers are devouring themselves at breakneck speed, I will do it again for sure, we loved them too much. A beautiful marriage with this beautiful Clairette de Die.
Nutella financier recipe for 48 imprints
Ingredients
200 g butter
180 g egg white (approximately 6)
100 g of Nutella (more or less)
150 g icing sugar
90 g flour
90 g ground almonds
Instructions
Preheat the oven to 180 °
Cut the butter into small cubes.
Heat the butter in a saucepan, let it take on a beautiful amber color.
Whisk the egg whites so that they become frothy.
Gradually add the icing sugar.
Mix the flour and the ground almonds then incorporate them into the preparation.
Mix so that the preparation becomes a smooth paste without lumps.
Half-fill the silicone impressions.
Pour a small amount of Nutella (I heated it a little in the microwave) in each imprint.
Pour the rest of the dough to complete the imprints.
Scrape off the excess with a marquise.
Place in a hot oven for 25 minutes.
Preparation time: 10 minutes
Cooking time: 25 minutes
Number of people: 48 imprints
4 star rating: 8 reviews
Beat the dough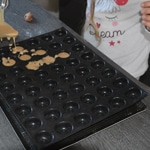 Pour into the footprints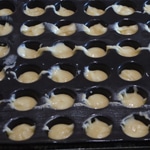 Half fill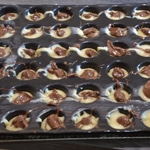 Place a dab of Nutella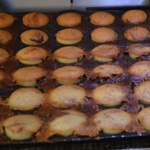 Financial cooked
What wine to drink with Nutella financiers?
My favorite wine for this recipe: Clairette de Die Grape variety Clairette blanc and Muscat blanc.
Temperature between 06 ° and 7 °.
Origin of the recipe: Best Of gourmand by M. Cyril Lignac.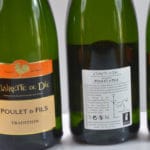 Zoom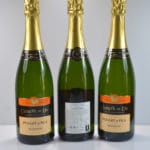 Bottles
Cave Poulet & fils in Pontaix in the Drome
Clairette de Die Tradition
A naturally sweet and sparkling wine, light in alcohol, it will please a lot at the end of a meal with its low alcohol content. . A golden yellow color even a little pale gold. Small and fine bubbles, with a beautiful bead of foam, with very intense notes of muscat where exotic fruits stand out and where rose and lychee complete the nose.