<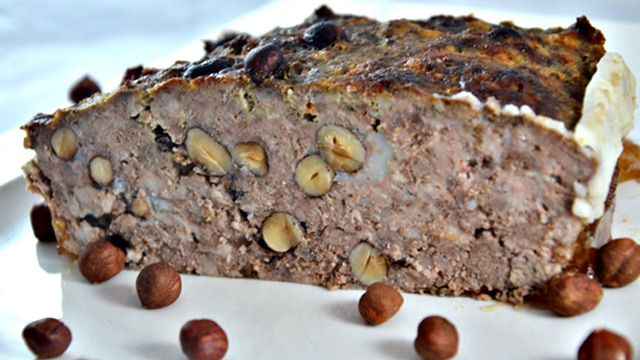 Recipe: Venison and hazelnut terrine
Venison and hazelnut terrine recipe, one of my favorite terrines, I like to bite into the hazelnuts to the full, once they have flavored the deer terrine. Always a great moment when the terrines cook and divinely perfume the kitchen. I like to cook them a week in advance so that they develop their flavors as much as possible. Then finally comes the moment to taste this Venison and hazelnut terrine, surely one of my favorites.
Recipe ingredients
Recipe Venison and hazelnut terrine for 15 people:
650 g of venison
450 g Boneless loin
600 g of throat
10 cl of cognac
35 cl of pinot blanc
5 peppercorns
120 g whole hazelnuts.
16 g of salt per kilo of meat
2 g of pepper per kilo
1 bard
Laurel
Instructions
Prepare the marinade 24 hours before cooking the terrine.
Place the pieces of venison cut into large cubes with the pork.
Add the peppercorns and bay leaf.
Pour in the white wine, and the cognac cover with cling film
Stir the meat from time to time during the time of the marinade to soak all the pieces.
Cover with new cling film after each opening.
Leave to macerate in the refrigerator.
Drain the meats and dry with a kitchen towel or paper.
Chop the pork and the venison.
Weigh the meat.
Season with salt and pepper, respecting the dosages.
Add the whole hazelnuts.
Combine the venison and pork and throat.
Pass the marinade through a Chinese.
Add the cognac and the wine from the marinade.
Cover the inside of the terrine.
Fill the terrine.
Lightly pack the seasoned meats into the terrine.
Preheat the oven to 150 ° C (th. 6), then put in the oven.
Let the terrine roast for 1 hour 30 minutes
Compress the terrine for an hour.
Remove the weight from the terrine, it will rise and absorb the liquid jelly.
Preparation time: 40 minutes
Cooking time: 1 hour 30 minutes
Number of people: 15
4 star rating: 1 review
Which wine to drink with: Venison and hazelnut terrine
my favorite wine for this recipe: Pinot noir Bourgogne Grape Pinot noir
Temperature between 16 ° and 17 °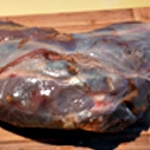 Parry the deer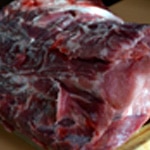 Parry the spine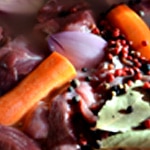 The marinade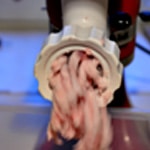 Chop the throat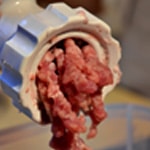 Chop the spine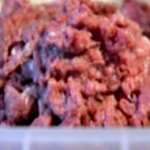 Mix the meats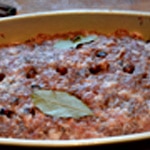 Ready to cook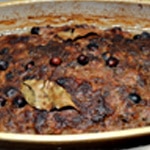 Cooked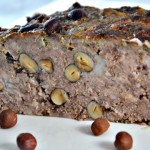 thanks to Colette for her birthday