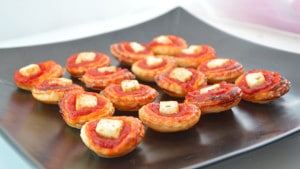 Recipe: Tomato and Feta Puff Pastry
Instructions
Tomato and feta puff recipe. I had a crowd at lunch for our first sauerkraut; no entry, just a nice little aperitif. I like homemade puff pastry. They are still worshiped and absorbed at high speed. There are never any left. Here, the tomato is dominant. It has a little character with the chilli, but it is immediately softened by the feta. I love these convivial moments with the aperitif, but watch out for those who take the wheel after a meal.
Recipe ingredients:
Tomato and feta puff pastry recipe for 6 people:
1 large onion
1 can of peeled tomato of 400 gr
1 150 g jar of feta cube in oil
1 lump sugar
1 teaspoon of chili puree
1 egg yolk
1 tablespoon of olive oil
Instructions
Preheat the oven to 200 °.
Peel then cut the onion.
Heat a saucepan with the oil.
Add the onions, when they are translucent.
Add the peeled tomatoes and let reduce for an hour.
Mix the tomato just before using it.
Roll out the puff pastry.
Cut circles of puff pastry the size of your molds with cookie cutters.
Place the imprint of puff pastry in each mold.
Prick the center of each circle with a fork.
Spread egg yolk around the edges of the prints.
Pour the tomato coulis into each cavity.
Place a feta cube in each footprint, taking care to push the cube into the tomato.
Bake for about 18 minutes.
Preparation time: 30 minutes
Cooking time: 20 minutes
Number of people: 6
4 star rating: 1 review
What wine to drink with: Tomato and feta puff pastry
My favorite wine for this recipe: Côte du Jura Savagnin grape, pinot blanc, Chardonnay
Temperature between 11 ° and 12 °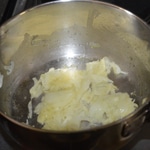 Sear the onions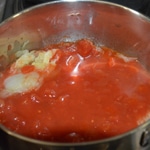 Add the tomatoes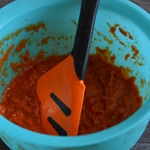 To mix together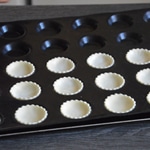 Make the footprints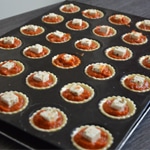 Place a feta cube