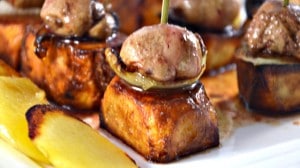 Recipe: Veal kidney aperitif
Recipe for veal kidney aperitif, ideal for dinner aperitifs, you will surprise your guests. Kidneys that are still a little pink, served on a roasted potato with duck fat. A few wooden picks, to facilitate the service, a great pleasure for all kidney lovers, here with the aperitif, they will call your guests. I did not flambé them, I regret it, to give them even more flavor, with veal kidney aperitif you will crack the amateurs.
Recipe ingredients
Veal kidney aperitif recipe for 4 people:
1 veal kidney
3 Agata potatoes
1 onion
1 tablespoon of duck fat
Instructions
Trim the kidneys or have them prepared by the butcher.
Remove the fat that coats the kidney.
Cut around the fat, avoid touching the kidney with the knife.
Cut the kidney respecting the shapes, to have pieces like rabbit kidneys.
Peel potatoes.
Cut the potatoes into cubes of the same size but well cubic.
Peel the onion.
Cut the onion into quarters.
Heat the pan with the duck fat.
Sear the potato cubes in the pan on each side, let brown well.
Place the potatoes on a baking sheet, then place in the oven at 80 °.
Lightly sear the onions, they should just turn transparent.
Place an onion petal on each potato, then iron in a warm place.
Season the veal kidneys with salt and pepper.
Sear the kidneys in the duck fat, they should remain barely pink.
Prick a kidney on each potato, and let the peak protrude from the kidney.
Return to the oven to take out just before serving.
Preparation time: 30 minutes
Cooking time: 5 minutes
Number of people: 4
4 star rating: 1 review
What wine to drink with: Veal kidney aperitif
My favorite wine for this recipe: Crémant du Jura Cépage Savagnin blanc, Chardonnay
Temperature between 08 ° and 10 °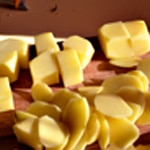 Cut the potatoes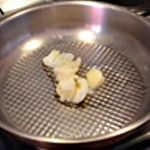 Heat the duck fat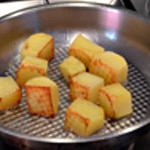 Grill on each side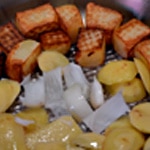 Add the onions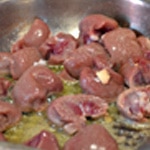 Sear the kidneys