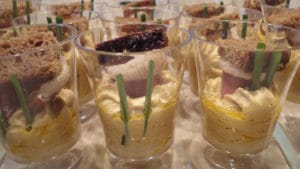 Foie gras verrine recipe
Foie gras mousse verrines or duck breast verrines, an easy to make verrine, you will thrill your friends. A simple and easy to make verrine for a superb presentation, foie gras is always a party, a great way to receive friends. An Espelette pepper recipe with Wollkornbrot bread and chives, products that are not always used, friends surprise friends, during a meal, that's our best wishes to all.
Foie gras verrines recipe for 4 people:
Ingredients :
125 g of raw foie gras
10 cl of fluid cream
0.5 g of salt
0.5 g Espelette pepper
8 sprigs of chives
1 slice of Wollkornbrot bread
4 slices of duck breast
Pepper
Instructions
Boil your fluid cream, salt and pepper.
Add the Espelette pepper.
Cut the foie gras into small pieces
Incorporate the liver into the hot cream, cook for a few minutes.
Mix the cream with the foie gras.
Leave to cool in the refrigerator.
Fill a pocket with a notched nozzle.
Garnish your verrines.
Plant the chives in the foie gras.
Roll up the slices of duck breast.
Place the slices on the foie gras mousse.
Cut the Wollkornbrot into small squares and place them on the preparation.
Preparation time: 20 minutes
Cooking time: 0 minutes
Number of people: 4
4 star rating: 1 review
What wine to drink with: Verrines with foie gras
My favorite wine for this Condrieu Grape variety recipe: Viogner
Temperature between 10 ° and 12 °