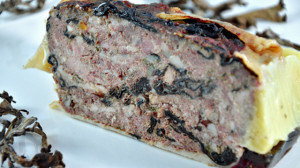 Recipe: Forest venison terrine
Forest roe deer terrine recipe, I still had death trumpets in large quantities and dried, they came to flavor this terrine deliciously. I roasted them a bit with shallots before putting them in the terrine. A little patience for the marinade, then the cooking and after a good week of waiting in the refrigerator, there the terrine will develop all its flavor. Then finally comes the moment to taste this Forest Deer Terrine.
Recipe ingredients
Recipe Forest venison terrine for 15 people:
800 g Boneless loin
800 g of throat 3.65
1 kg of venison
1 bard
4 tablespoons of Armagnac
60 cl of pinot blanc
10 peppercorns
1 clove
50 g of dried trumpets.
2 large shallots
½ bunch of parsley
16 g of salt per kilo of meat
2 g of pepper per kilo
Laurel
Instructions
Preheat the oven to 180 ° C (th. 6)
Soak the trumpets for an hour in lukewarm water.
Rinse the parsley, dry with food paper.
Peel the shallots.
Chop the parsley and shallots in a food processor.
Heat a pan and brown the parsley and shallots.
Add the trumpets and cook for about ten minutes.
Prepare the marinade 24 hours before cooking the terrine.
Place the pieces of venison cut into large cubes with the pork.
Add the thyme, about ten peppercorns, the cloves.
Pour in the white wine and Armagnac.
Stir the meat from time to time during the time of the marinade to soak all the pieces.
Cover with new cling film after each opening.
Leave to marinate in the refrigerator.
Drain the meats and dry with food paper.
Chop the pork and the venison.
Mix the venison and pork.
Weigh the meat.
Salt and pepper, respect the doses, it is important for the balance of your terrine.
Add all or part of the marinade juice.
Bard the terrine
Fill the terrine without tamping too much.
Place in the hot oven.
Let roast for 1 hour 30 minutes.
Compress the terrine for an hour, with a tin can for example.
Remove the weight from the terrine, it will rise and absorb the liquid jelly.
Let the terrine rest for a week in the refrigerator before tasting it.
Preparation time: 40 minutes
Cooking time: 1 hour 30 minutes
Number of people: 15
4 star rating: 1 review
What wine to drink with: Forest venison terrine
My favorite wine for this recipe: Morgon Cépage Gamay
Temperature between 12 ° and 13 °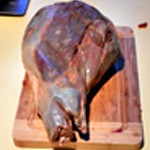 Bone the leg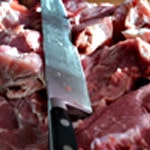 Cut the meat into cubes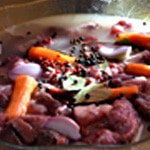 Marinate 1 or 2 days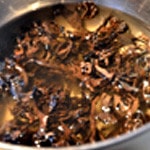 Dip the trumpets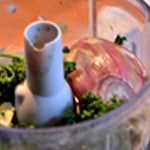 Chop shallots and parsley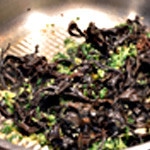 Brown the trumpets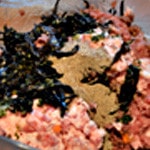 Weigh the meat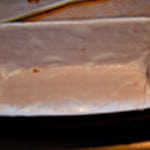 Cut the bard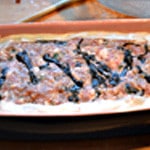 Ready to bake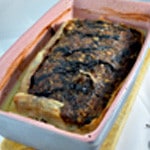 Cooked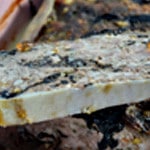 Zoom<img src="/wp-content/uploads/2021/09/7398949678793254223.jpg" class="aligncenter"