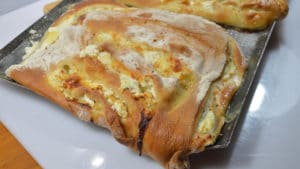 4 Cheese Fougasse Recipe
We really like all the pizzas at home and especially the fougasses with their bread dough, a little crunchy and soft at the same time. Here, with the cheeses, this fougasse has a lot of character, I did not use Roquefort, because Léonie finds that this cheese is too strong, me, I love it. But as we cook pizza by pizza, so every time we cook we share it. Of course I will introduce you to other fougasse, it's endless … in any case this fougasse with 4 cheeses had enough character not to go unnoticed. When I make my dough, I always make 4 fougasses and freeze half of it, it's practical and the dough tolerates freezing very well. I planned to make one for the meat, surely to the visit of my son and a fish and cream.
4 cheese Fougasse recipe for 2 people
Ingredients :
250 g of type 55 flour
150 g of lukewarm water at 20 °
50 g of liquid sourdough
5 g baker's yeast
5 g of salt
15 g oil
125 g cheese with fine herbs
1 goat
1 raw milk camembert
80 g of Comté
Instructions
Preheat the oven to 235 °, with the rack at the bottom of the oven.
Grate the county.
Cut the goat cheese into 1 cm rounds.
Mix the flour, salt, liquid sourdough, yeast and water in the food processor.
Knead for 5 minutes at slow speed.
Then knead for another 7 minutes at high speed.
Incorporate the oil and knead for another 3 minutes at high speed.
The dough should be soft and smooth, it is gathered on the hook.
Flour your work plan.
Form a ball and cover it with a damp cloth.
Leave to rise for 1 hour at room temperature.
Fold the dough in half and let it rise for another hour.
Flour the work surface and divide the dough into 4.
Roll the dough pieces on themselves, giving them an elongated shape.
Leave to stand for another 15 minutes under a damp cloth, solder underneath.
Roll out the dough pieces by hand, to obtain oval pastes.
Place the pastry on a non-stick baking sheet.
Spread the cheese with herbs generously on the fougasse.
Share the sliced goat cheese.
Add the sliced Camembert in quarters.
Sprinkle the Comté between the cheeses.
Let it grow for another 30 minutes.
Bake in the oven, adding 5 cl of water in the bottom plate for 4 minutes.
Lower the oven to 220 ° and cook for another 10 minutes.
Brush olive oil on the blank edges of the hot fougasse.
Enjoy without moderation.
Preparation time: 20 minutes
Cooking time: 14 minutes
Number of people: 2
4 star rating: 1 review
What wine to drink with: Fougasse with 4 cheeses
My favorite wine for this Beaujolais Grape variety recipe: Gamay
Temperature between 12 ° and 14 °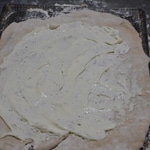 Roll out the dough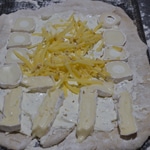 Add cheese