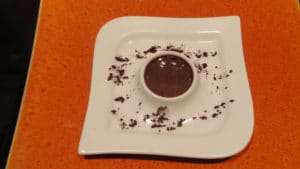 Fresh Chocolate Cream Recipe
Chocolate cream recipe a quick chocolate cream recipe for gourmets, you might as well say that at home, there are people at the table for this dessert … Even my daughter's friends come to taste this kind of cream, ah the greedy ones, well I always plan the blow. A dark chocolate cream recipe for lovers of intense taste, raw milk softened a little chocolate, but frankly this cream is intense, to quote an advertisement .. This homemade chocolate cream is a real treat.
Fresh chocolate cream recipe for 4 people
Ingredients :
40 cl of raw milk
1 vanilla pod
2 tablespoons of water
100 gr of caster sugar
100 g of dark chocolate with a high cocoa content
5 egg yolks
I nstructions:
Split the vanilla pod and recover as much black grain as possible, infuse it in the milk.
Heat your vanilla milk, as soon as it boils leave to heat for 5 minutes on low heat, then leave to cool.
In a saucepan with the water and the caster sugar, let it boil then turn off the heat.
Crush the chocolate into small, even pieces. Melt it in the hot prepared syrup, cover and forget it for a few minutes so that it can melt gently.
Add the milk as soon as the chocolate has melted, mix gently without allowing air to enter your preparation.
Pour the preparation over the egg yolks, mix gently.
Pass your cream through Chinese.
Pour your cream into your ramekins in a bain-marie, cold start
Cook at 170 ° for 45 minutes, your cream should make a light crust.
Leave to cool and place in the refrigerator to serve it very cold.
Preparation time: 20 minutes
Cooking time: 45 minutes
Number of people: 4
4 star rating: 1 review
What wine to drink with: Fresh chocolate cream
My favorite wine for this Juliénas Grape variety recipe: Gamay
Temperature between 14 ° and 16 °