<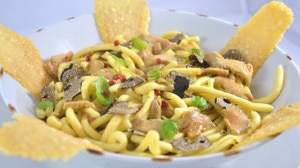 Recipe: Fresh foie gras and truffle pasta
Recipe for fresh foie gras and truffle pasta, ideal to end the year. This pasta dish is exceptional in flavor and fragrance. I still had some foie gras and the truffles come straight from the woods of Haute Saône, yes, we have truffles, I buy them at the market in Vesoul. We fall for a dish of pasta, but then I'm not telling you the pleasure we had to taste this dish of fresh foie gras and truffle pasta, what happiness. Of course you have understood that this a recipe that I had made last year, it was awaiting the Christmas holidays, nothing better to start the saga of wonderful meals with fresh foie gras and truffle pasta. 2014 souvenir recipe
Recipe ingredients
Fresh foie gras and truffle pasta recipe for 4 people:
500 g of fresh homemade pasta
1 nice truffle
200 semi-cooked foie gras
10 basil leaves.
Instructions
Make the fresh pasta.
Cook the pasta in a large volume of salted water.
Pass the pasta through a colander at the end of cooking, then keep warm.
Slice or grate the truffle more finely.
Dip a knife in boiling water and cut the foie gras into small cubes.
Heat the dish that will accommodate the pasta.
Pour the hot pasta into the hot pan.
Scatter the broken truffles over the pasta.
Place the foie gras all over the place and let it melt gently before serving.
Generously pepper the pasta before serving.
Preparation time: 20 minute (s)
Cooking time: 10 minute (s)
Number of people: 4
4 star rating: 1 review
What wine to drink with: Fresh pasta with foie gras and truffle
My favorite wine for this recipe: Aloxe corton Grape Pinot Noir
Temperature between 15 ° and 16 °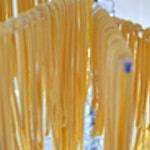 Make the spaghetti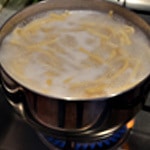 Cook the spaghetti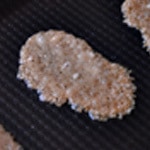 Parmesan tile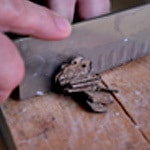 Slice the truffle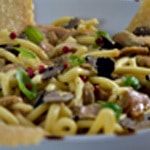 Zoom