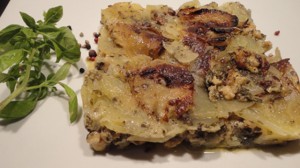 Recipe: Parmentier with frogs
Recipe Parmentier of frogs gratin with potatoes, I used frozen frogs for this recipe. I found these frogs in the Leclerc at a very affordable price, it's easy for me I live a few hundred meters from this store. Frog Parmentier for potato lovers, another way to taste potatoes, my guests loved it.
Recipe ingredients
Parmentier recipe of frogs for 8 people:
2,500 kg of Agata potato
1 kg of frogs
1 large onion
50 g parsley
75 g basil
50 g chives
20 g butter
15 cl of white wine
1 knife tip of powdered ginger
½ lemon
66 cl of heavy cream
Instructions
Thaw the frogs the day before, in a colander.
Peel the potatoes, then cut them in half.
Cut the half potatoes into thin slices.
Butter a baking dish.
Place half of the potatoes in the dish.
Wipe the frogs with food paper.
Heat a pan with the remaining butter.
Sear the frogs in the pan.
Add the herbs and cook a little.
Squeeze the ½ lemon over the frogs.
Add the white and let the liquid evaporate.
Place the seared frogs on the potatoes.
Cover with the rest of the potato.
Pour the heavy cream all over the place with a large spoon.
Place in a hot oven at 150 ° for two hours.
Preparation time: 15 minutes
Cooking time: 120 minutes
Number of people: 8
4 star rating: 1 review
What wine to drink with Parmentier de frogs:
My favorite wine for this Bourgogne aligoté recipe: Aligoté grape
Temperature between 8 ° and 10 °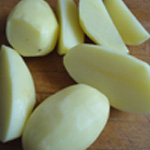 Cut the potatoes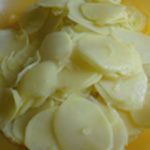 To slice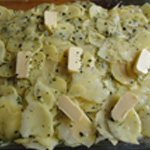 Tidy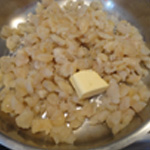 Seize the frogs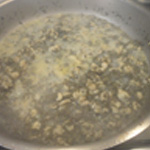 Reduce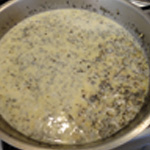 Cream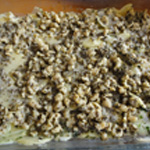 Scatter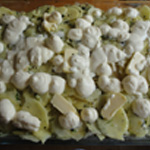 Heavy cream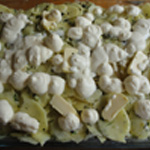 Pass in the oven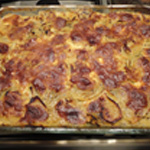 Gratinate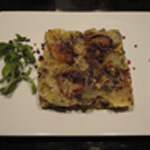 To end