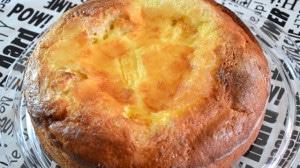 Recipe: Toutché or birthday cake
Toutché recipe or festive cake, you may not know what toutché means in Franc comtois dialect, it means festive cake. Here is an easy cake to make, although the brioche dough complicates it a bit. But you could very well do it with a four quarter, by the way I will test and I will keep you posted. I love such a generous cake. Of course we will be told that this cake goes straight to the hips of these ladies, but unfortunately I can't cook light, or maybe I don't want to. In any case, no risk with this toutché, you will satisfy all the people who will taste it.
Recipe ingredients
Toutché recipe or party cake for 8 people:
For the brioche dough
2 eggs
360 gr of flour
20 cl of liquid cream
40 gr of butter
½ teaspoon of vanilla extract
12 gr of baker's yeast
For the cream machine
1 egg
300 gr of sour cream
6 tablespoons of powdered sugar
1 sachet of vanilla sugar.
Instructions
Preheat the oven in convection heat to 180 °
Break the eggs into a bowl, then beat until the mixture doubles.
Add the flour and crumbled yeast.
Pour in the cream.
Add salt and vanilla sugar.
Knead with the hook for 15 minutes.
Cover the bowl with a tea towel and let stand for an hour.
Place the dough in your mold, I chose a missed mold.
Roll out the dough at the bottom of the mold, letting it rise to the end of at least 3 cm.
Leave to rest for another 30 minutes.
During this time prepare the appliance for the cream.
Beat the eggs with the yolks.
Add the sugar.
Pour in the cream and beat well.
Pour into the device by going up the edges, if it is lowered.
Pass in the oven for 30 minutes, it will be cooked when it has taken on beautiful colors.
Preparation time: 10 minutes
Cooking time: 30 minutes
Number of people: 8
4 star rating: 1reviews
What wine to drink with: Toutché or birthday cake
My favorite wine for this recipe: Savagnin white straw and Chardonnay wine
Temperature between 08 ° and 10 °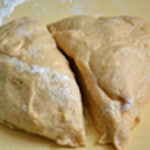 Knead the dough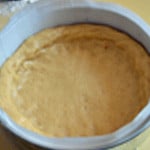 Place in the pie dish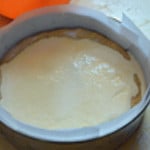 Pour the cream machine
Cooked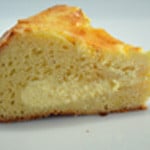 Zoom