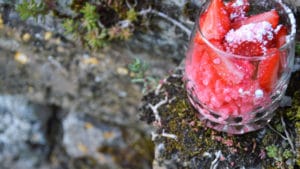 Rice pudding recipe with praline
Here is a dessert with pink pralines, for us rice pudding is a novelty. This is my first and we liked it. It is a colorful, creamy dessert that we loved, and particularly for its beautiful color. I would have liked to have had some milk from my friends in Auxon, but the dessert was decided a bit quickly. A rather easy dessert to make, and that is changing. In desserts, you have to innovate every day. In any case, I will do other tests than this praline rice.
Rice pudding recipe with praline for 4 people
Ingredients :
90 gr of round rice
½ liter of whole milk
250 gr of strawberries
100 gr of pink pralines
1 teaspoon of icing sugar
1 tablespoon of rose water
Instructions
Rinse the rice with clean water.
Place the rice in a saucepan and cover with water.
Bring to a boil and cook for 3 minutes.
Drain the rice and let it dry.
Mix the pralines in the robot.
Heat the milk with 80 g of pralines and rose water.
As soon as it boils, add the rice and cook for 30 minutes, stirring regularly.
Divide the rice among the verrines and let cool.
Cut the strawberries and spread them over the rice.
Sprinkle with the icing sugar and the remaining pralines.
Preparation time: 10 minutes
Cooking time: 30 minutes
Number of people: 4
4 star rating: 1 review
What wine to drink with: Recipe for rice pudding with praline
My favorite wine for this recipe Grape variety: Monbazillac Cépages Sémillion, Muscadelle, and Muscadelle
Temperature between 6 ° and 8 °
Origin of the recipe: Saveur Magazine
Thanks to Léonie for her beautiful photo
Heat the milk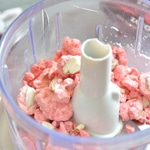 Mix the pralines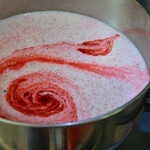 Melt the pralines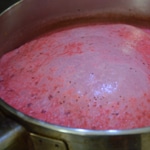 Nice color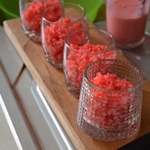 Put in the verrines