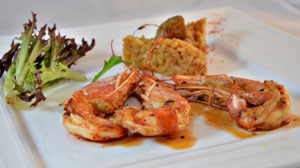 Recipe: Gambas flambéed with Pineau
Recipe of prawns with Pineau des Charentes, holiday souvenir in Charente Maritime, in La Rochelle to be more precise. We love prawns at home and especially lightly flambéed. This midday I did not have time to cook and yet we were two at lunch, a friend had just arrived. Fortunately I had thawed a few prawns the day before. The time to free them, remove the casing and hop in the pan, we flambé at the end and we serve quickly.
Recipe ingredients
Recipe of flambé prawns with Pineau for 2 people:
12 prawns
15g butter
1 tablespoon of olive oil
10 cl of Pineau des Charentes
Salt and pepper
Instructions
Rinse the prawns under running tap water.
Remove the prawns, reserving the carcasses and heads.
Cut the backs of the prawns by removing the casings.
Heat the pan with the butter and oil.
Sear your prawns in the hot fat, just let them color
Be careful, they should not overcook, the flambé will finish cooking.
Turn your prawns over then throw the alcohol into the pan, heat and flambé.
Be careful, the flames can be cruel. Serve by adding a little juice.
Preparation time: 20 minutes
Cooking time: 10 minutes
Number of people: 2
4 star rating: 1 review
What wine to drink with: Gambas flambées with Pineau
My favorite wine for this white Macon recipe Grape variety: Pinot blanc, Chardonnay
Temperature between 11 ° and 13 °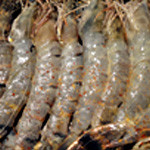 Raw prawns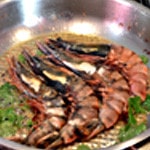 Sear the prawns