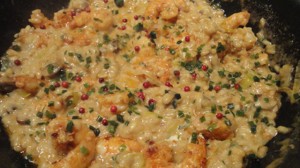 Recipe: Risotto of prawns
Recipe for risotto of prawns, with raw prawns you can cook the shells in a broth with white wine, your rice will be fragrant and tasty as you wish. I like all the risottos, but I particularly like the Parmesan and the mascarpone which come to enhance this risotto. Risotto takes a few minutes to prepare, it also requires that you be present throughout the cooking, but frankly the result is worth the effort.
Recipe ingredients
Recipe Risotto of prawns for 4 people:
300gr of Arborio rice
400gr of raw prawns
20 cl of white wine
100gr of parmesan
100gr of mascarpone
1 onion
2 cloves garlic
10cl of olive oil
1 chicken broth
1 teaspoon of paprika
Salt and pepper
Instructions
Destroy the prawns.
Peel the onion and garlic cloves and finely chop them.
Heat a pan with olive oil
Sauté the onion and garlic.
Grill the shells of prawns.
Transfer the shells to a saucepan without cleaning the pan.
Pour the wine over the shells.
Salt and pepper, cook for an hour.
Filter the cooking juices from the shells with a Chinese.
Pour the rice into the pan, brown while mixing with a wooden spatula.
Cover with water, add chicken broth and the juice from the shells.
The broth should barely cover the rice.
Gradually add the broth so that the rice is always covered.
Let the rice cook for 15 to 20 minutes on a low heat, it should just simmer, watch that there is no lack of liquid.
Add the Parmesan 5 minutes before the end of cooking.
Sear the prawns in the pan before serving.
Add the mascarpone, then add everything to the rice.
Preparation time: 10 minutes
Cooking time: 17 minutes
Number of people: 4
4 star rating: 1 review
What wine to drink with: Risotto of prawns
My favorite wine for this recipe: Châteauneuf du Pape, Grape variety: Grenache, Syrah, Mourvèdre
Temperature between 16 ° and 18 °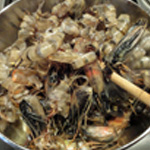 Destroy the prawns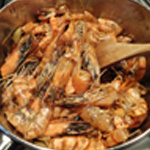 Grill the carcasses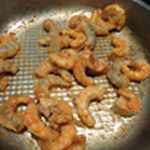 Sear the prawns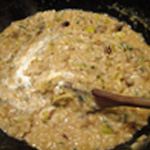 Cook the rice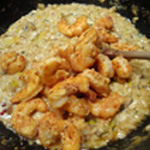 Add the prawns