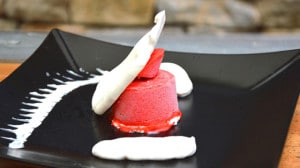 Recipe: Gariguette ice cream
Gariguette ice cream recipe, I was looking forward to the moment of these beautiful French strawberries. I like their taste and smell. They are still a bit expensive but too bad, I've been waiting since this winter. I'm going to make a vacherin with my ice cream, probably individually, but it will be for another recipe, probably in the week. My mouth is watering with my gariguette ice cream waiting for me in my freezer.
Recipe ingredients
Gariguette ice cream recipe for about 1.5 liters:
750 g Gariguettes strawberries
0.5 l of raw milk
8 eggs
170 g sugar
50 g of icing sugar.
Instructions
Separate the egg yolks from the whites.
Heat the milk with 50 g of sugar.
Blanch the egg yolks with the sugar, this should double in volume.
Rinse the strawberries.
Stem the gariguettes.
Blend the strawberries with the 50 g of icing sugar.
Pour the lukewarm milk over the blanched eggs.
Bring the custard up to 87 °, the cream should coat the spoon.
Leave the cream and the strawberry coulis to cool in the refrigerator.
Turbine the cream and strawberries the next day for 30 minutes.
Let the ice set overnight in the freezer.
Preparation time: 30 minutes
Cooking time: 0 hour (s)
Number of people: about 1.5 liters of ice
4 star rating: 1 review
What wine to drink with: Gariguette ice cream
My favorite wine for this recipe: Gewurztraminer late harvest. Gewurztraminer grape variety
Temperature between 10 ° and 12 °
Thanks to Florence who will recognize herself.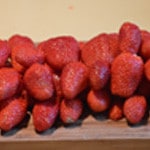 Rinse the strawberries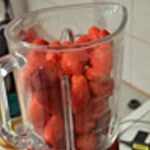 Mix the strawberries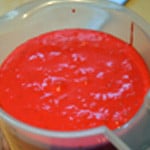 Mixed strawberries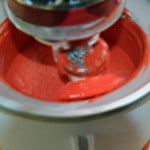 Turbine the ice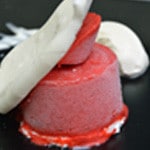 Zoom