Green Apple Chocolate Crunch Recipe
A crunchy covered with honey and white chocolate for the sweet tooth, a very easy dessert to make. Divinely crunchy with apples that were still a little crunchy, we loved these crunchy chocolate with green apples. At home chocolate is king, we practice it without counting all love it. Crispy to perfection, we tasted them by hand while crunching to the full, the children loved it.
Green apple chocolate crunch recipe for 4 people
Ingredients :
8 crackers
100 g of white chocolate
10 cl of fresh cream
40 g of brown sugar
40g butter
4 Granini apples
4 teaspoons of honey
1 teaspoon of cinnamon.
Instructions
Place the crackers on a baking sheet with foil.
Pour the honey over each cracker, then add a knob of butter on each cracker.
Place in a hot oven for 5 to 10 minutes to melt and caramelize the crackers a little.
Peel the Granini apples and cut them into quarters.
Remove the middle and cook them gently in butter, sprinkle with brown sugar;
Simmer gently so that the apples cook and take on beautiful colors.
In a saucepan, heat the crème fraîche to a boil.
Add the off-white chocolate into small pieces and cover.
Let the chocolate melt and then coat the crunchies with the cream and white chocolate mixture.
On each crunchy place a ½ cooked apple and sprinkle your plate with cinnamon.
Preparation time: 20 minutes
Cooking time: 10 minutes
Number of people: 4
4 star rating: 1 review
What wine to drink with: Crunchy chocolate with green apples
My favorite wine for this recipe: Gewurztraminer Grapes Gewurztraminer
Temperature between 08 ° and 10 °
The sweet crunchies with honey and covered with a topping of white chocolates reveal all their flavor with the acidity of the Granini apple, what a pleasure!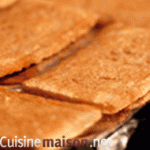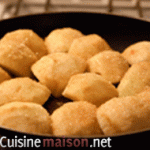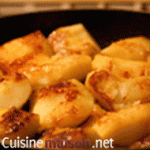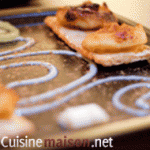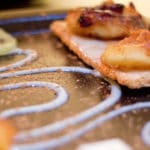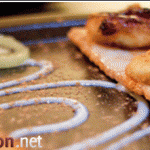 Thanks to Thibaut for the photos: www.thibautbouvier.fr