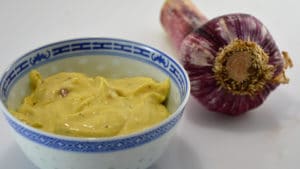 Garlic Mayonnaise Recipe
Summary: It's gone every Monday, I'll put a sauce online. I like this kind of mayonnaise, I like it a little spiced up with mustard, I like it when it has taste and character. Here with garlic, this preparation goes wonderfully with meat or fish dishes. A beautiful garlic mayonnaise, ideal to accompany a cold fish, a salmon or even a pike, if you are lucky enough to have a fisherman in your knowledge. Of course you will have to play with the garlic and its quantity according to the desired taste. Be careful, the garlic will still develop over time and divinely flavor this garlic mayonnaise sauce.
Garlic mayonnaise recipe for 4 people:
Ingredients
4 cloves of garlic
5 turns of nutmeg mill
20 cl of oil
1 large tablespoon of mustard
1 egg yolk
Salt and pepper
Instructions
Prepare the mayonnaise, to follow this recipe click on the link.
Peel the garlic.
Degerm the garlic.
Squeeze the garlic over the mayonnaise.
Mix the products
Reserve in the refrigerator.
Preparation time: 10 minutes
Cooking time: 6 minutes
Number of people: 4
4 star rating: 1reviews
What wine to drink with: Garlic mayonnaise
You will choose according to the dish that will accompany this mayonnaise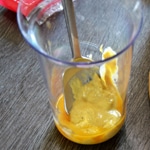 Make the mayonnaise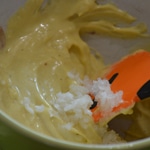 Add garlic