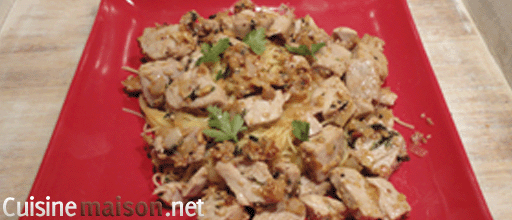 Tuna Spaghetti Recipe
Homemade pasta here is an easy recipe, Tuna Spaghetti. This tuna spaghetti recipe is quick to make, it will be ready in a few minutes. Easy tuna recipe ideal for an evening dinner, you will accompany it with a delicious Burgundy. Recipe for tuna spaghetti with garlic and parsley, a very happy marriage, we really like this fish which cannot withstand too long cooking. Tuna spaghetti recipe for the evenings, you can eat it directly on a TV set. Tuna recipe.
Tuna spaghetti recipe for 4 people
Ingredients :
300 g of spaghetti
300 g of tuna
1 clove of garlic
2 sprigs of parsley
1 shallot
2 tablespoons of sesame seeds
3 tablespoons of olive oil
Salt and pepper
Instructions
Rinse the tuna in water, then dry it with food paper.
Cut the tuna into small cubes.
Rinse the parsley, then chop it.
Peel the garlic and shallot, cut them finely.
In a small salad bowl, pour the olive oil mix with the sesame seeds, salt and pepper the preparation.
Mix the tuna with the preparation, stir well so that the fish is well soaked.
Cook your spaghetti in a large volume of salted water.
In a warm pan, pour the spoonful of olive oil, then the garlic, the shallot and finally the parsley.
Sear the pieces of tuna, stirring them often for a few minutes, be careful, the fish must not be overcooked, the pan must not remain too hot.
Place your spaghetti on the plate, then your preparation on it.
Preparation time: 10 minutes
Cooking time: 4 minutes
Number of people: 4
4 star rating: 1 review
What wine to drink with: Tuna spaghetti
My favorite wine for this Burgundy chardonnay recipe Grape variety: chardonnay
Temperature between 11 ° and 13 °