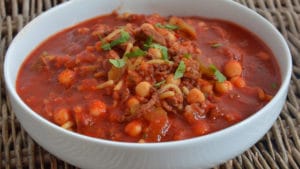 A nice tasty soup, I love this Harira, I really like its flavor and taste. But it's still my little sister Coco who, while we were cooking, presented us with this beautiful soup that has been tickling our nostrils for some time. A soup that makes us travel a bit, anyway already with chickpeas, for us, it is an institution; here we are in Morocco. It is often eaten to break the fast during Ramadan. Of course, there are many variations to this beautiful Harira soup. You noticed that I did not put on a harissa! indeed, it was not present in the recipe, but nothing prevents you at home, to add it, if you are fond of it (no reason to deprive yourself of it !!). It is a meal soup, in fact it is sufficiently rich and complete to make a meal, choose these beautiful ultra cold days announced to make your Harira, it is said that, in the Maghreb, it is eaten all year round.
Harira's recipe for: 4 people
Ingredients :
400 g of rump steak
150 g of dried chickpeas
100 g of dry lentils
50 g of spaghetti
50g rice
600 g of peeled tomatoes
1 large stalk of celery
1 large yellow onion
1 bunch of fresh coriander
½ bunch of parsley
5 cl of lemon juice
½ teaspoon of turmeric
½ teaspoon ground cinnamon
2 pinches of saffron powder
½ teaspoon ground ginger
1 teaspoon of chili puree
1 tablespoon of olive oil
Salt and pepper
Instructions
Soak the lentils and chickpeas in plenty of water for 12 hours.
Peel then finely chop the onion.
Rinse then chop the celery stalk.
Cut the meat into small cubes.
Heat a casserole dish with olive oil.
Sear the meat in hot oil for 5 minutes.
Add the chilli puree and mix with the meat.
Add the onion and celery.
Sprinkle with the spices and cook for 5 minutes over high heat.
Add 1 liter of water, bring to a boil and cook for 15 minutes.
Cut the spaghetti into small pieces, then add them with the rice.
Add the chickpeas and lentils, cook over low heat for 1 hour.
Mix the tomatoes with half the coriander and the parsley in 30 cl of water.
Take a little juice and mix it with the flour, then add the preparation to the soup.
Pour in the mixed tomatoes and cook for another 1 hour under medium heat.
Check that all the ingredients are cooked and tender.
Pour in the lemon and add the rest of the chopped cilantro.
Enjoy hot.
Preparation time: 15 minutes
Cooking time: 2 hours 45 minutes
Number of people: 4
4 star rating: 1 review
What wine to drink with:
Harira, to stay in the tradition, I chose not to serve wine with this beautiful Harira soup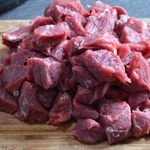 Cut the meat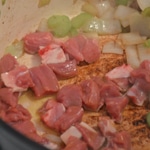 Sear the meat
Add water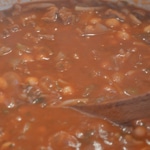 Let reduce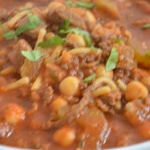 Zoom<img src="/wp-content/uploads/2021/09/7883108750050975418.jpg" class="aligncenter"