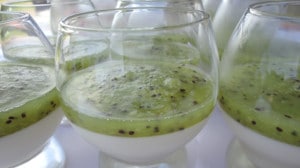 Recipe: kiwi panna cotta
Panna cotta kiwi the sweetness of the legendary Italian cream panna cotta with the acidity of kiwi, an explosive marriage that we savored with a certain pleasure. It was very hot yesterday and I served my very fresh panna cotta, it did us good. A lot of pleasure to make this panna cotta with kiwis. Fairly easy to make, a lot of happiness for this green dessert.
Recipe ingredients
10 ripe kiwis
60 g icing sugar for the cream
10 g icing sugar for the coulis
50 g white chocolate
40 cl of 30% fluid cream
1 g of agar agar
Instructions
Kiwi panna cotta recipe for 12 verrines:
Cut the kiwis in half and collect the pulp.
Mix the flesh then add the icing sugar.
Heat the fluid cream.
Add the agar agar, raise the temperature, remove from the heat from the first broths.
Break the white chocolate and pour the hot cream, cover and let the chocolate melt gently.
Mix well then pour into the verrines and let rest in the refrigerator.
Pour the kiwi as soon as the preparation is taken.
Preparation time: 30 minutes
Cooking time: 0 minutes
Number of people: 12
4 star rating: 1 review
What wine to drink with kiwi panna cotta
My favorite wine for this recipe: L'Etoile Cépage Savagnin, Chardonay, Pinot blanc
Temperature between 15 ° and 17 °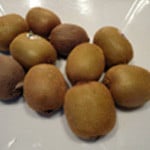 Kiwis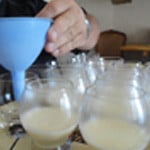 Pour the cream
Pour in the kiwi coulis