<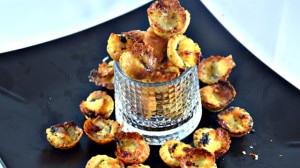 Recipe: Goat cheese puff pastry
Goat cheese puff pastry recipe, another recipe that lends itself perfectly to a dinner aperitif. They are rather quick to make, an easy recipe, but which does not withstand the onslaught of friends during the aperitif. I like puff pastry when it rises and is flavored with cheese, it gets a little oily, but terribly tasty. We loved these goat cheese puff pastry, with
a slightly dry white, a successful aperitif.
Recipe ingredients
Goat cheese puff recipe for 30 pieces:
½ roll of puff pastry
130 g of goat cheese in a log
1 teaspoon of poppy seeds
1 tablespoon of ketchup
Instructions
Roll out the very cold puff pastry.
Cut there with a cookie cutter barely larger than the prints.
Place the puff pastry circles in the silicone mold.
Prick the bottom of the mussels with a fork.
Place the scraps of puff pastry on top of each other.
Roll out again and cut with the cookie cutter, no waste.
Cut the goat cheese into small cubes
Place a cube on each puff pastry print.
Place a drop of ketchup on each piece of goat cheese.
Sprinkle with poppy seeds.
Bake in a hot 200 ° oven for 15 to 18 minutes.
Let cool a little before unmolding, then serve.
Preparation time: 30 minutes
Cooking time: 18 minutes
Number of people: 12
4-star rating: 1 review)
What wine to drink with: Goat cheese puff pastry.
My favorite wine for this recipe: Sancerre blanc Cépage Sauvignon blanc
Temperature between 06 ° and 08 °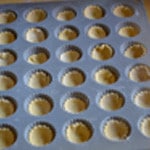 Lay the dough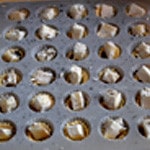 Place the goat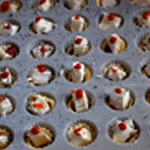 Add the ketchup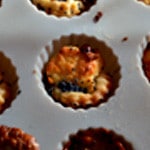 Cooked
Zoom