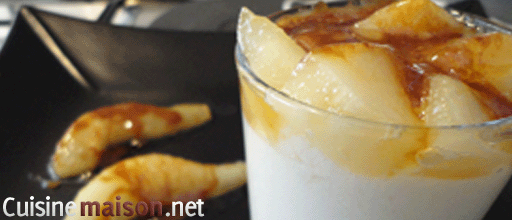 Williams Pear Mousseline Recipe
Williams pear, easy dessert with Williams pears, I love this mousseline especially when served very cold. Here is an original dessert recipe, to be enjoyed during the hot summer months. Williams autumn fruit pears, they have a particular flavor, very juicy, I love to bite into this fruit to the fullest.
Williams pear mousseline recipe for 4 people
Ingredients :
4 Williams pears
35 cl of fluid cream
150 gr of sugar
3 g of agar-agar or 4 gelatin sheets
100 cl of water
40g butter
Instructions
Make a syrup with the sugar and water. Add the agar-agar. Let it boil a little and let it cool.
Reserve a pear for decoration.
Mix the pears without cooking them so that they keep their particular aroma.
Mix the cooled syrup with the pear coulis.
Beat the whipped cream into a firm whipped cream (for success: put your bowl and your cream in the refrigerator for half an hour). As soon as your whipped cream is ready, gently fold it into the pears.
In a skillet, melt the butter gently. Place the sugar cubes as soon as the butter has melted.
Let the sugar melt and wait for it to take on a beautiful amber color, stir regularly.
Gently place the pears in your caramel, then turn them over and mount your verrines.
Chill for about 3 hours.
Preparation time: 20 minutes
Cooking time: 0 minutes
Number of people: 4
4 star rating: 1 review
What wine to drink with: Williams Pear Mousseline Recipe
My favorite wine for this Coteaux du layon recipe Grape variety: Chenin blanc
Temperature between 7 ° and 8 °