Green tomatoes recipe
With this recipe, I don't want to teach you how to make a green salad, but just to give you an original idea to prepare a salad of green tomatoes. A nice plate of green tomatoes, it's almost summer, I love the colors of the vegetables and especially this plate of green tomatoes and mozzarella. An ideal plate of vegetables to accompany a barbecue, the acidity of the tomatoes is regulated by the mozzarella cheese, with a little drizzle of olive oil and voila. Tomatoes are my favorite vegetables for making beautiful salads, the red ones, which have ripened in the sun, are bursting with vitamins. A plate accompanied by a good fresh rosé and it's summer, green tomatoes are not found everywhere, but I know a market gardener who offers them throughout the summer.
Green tomatoes recipe for 2 people
Ingredients :
6 small green tomatoes
1 red onion
1 shallot
1 teaspoon ground pepper
2 tablespoons of olive oil
A little fleur de sel
Instructions
Wash the tomatoes in water, then dry them with food paper.
Thinly slice the green tomatoes.
Place them directly on the plates.
Peel the onion and shallot.
Slice the onion in half, then into thin strips.
Chop the shallot lengthwise, then crosswise.
Add olive oil to each plate.
Scatter the shallots.
Crush the peppercorns, then add it to the tomatoes.
Season with salt.
Preparation time: 10 minutes
Cooking time: 0 minutes
Number of people: 2
4 star rating: 1 review
What wine to drink with: Green tomatoes
My favorite wine for this Rosé de Corse recipe Grape varieties: Nielluccio
Temperature between 7 ° and 8 °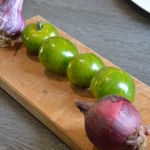 Rinse and slice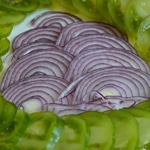 Slice the tomatoes