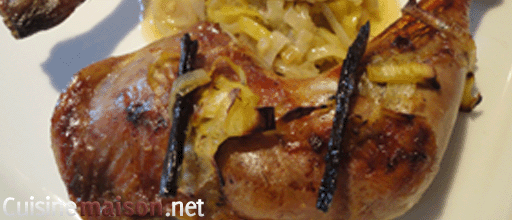 Guinea fowl leg recipe with vanilla butter
Summary : A poultry at home, the guinea fowl with its flesh so tender that it is impossible not to love it. Baked guinea fowl recipe, for this roasted guinea fowl I flavored it with vanilla, it is deliciously scented with cooking. I only used guinea fowl legs for this baked guinea fowl recipe, my butcher was promoting it. We find less and less guinea fowl on farms, they have disappeared a bit like rabbits.
Vanilla butter guinea fowl leg recipe for 4 people
Ingredients :
4 guinea fowl legs
100 gr of butter
2 vanilla pods
2 leeks
50 gr of butter
1 tablespoon of olive oil
Instructions
Rinse and cut the leek into small slices.
In a saucepan, melt 50g of butter and olive oil.
Split the vanilla pods in half, remove the flesh with the tip of a knife. Mix with the melted fat and let infuse for 1 minute over low heat. Add the leeks and sear them,
stop cooking the leeks as soon as they are translucent.
Using a brush, cover the guinea fowl thighs with the vanilla-based preparation.
Place the thighs in a baking dish, place the vanilla sticks on the thighs, add the leeks and cook for 35 minutes at 180 °, sprinkle at least twice with the vanilla butter.
When ready to serve, put your leek fondue in the middle of your plate.
Preparation time: 30 minutes
Cooking time: 35 minutes
Number of people: 4
4 star rating: 1 review
What wine to drink with: guinea fowl leg in vanilla butter
My favorite wine for this Volnay recipe Grape variety: Pinot noir
Temperature between 15 ° and 16 °