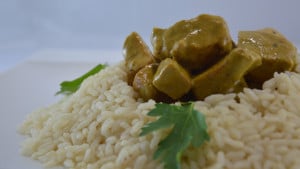 Pork Curry with Mushrooms Recipe
Pork curry recipe with mushrooms, my daughter has been asking me for a curry for several weeks now, it's done. I love this spice from far away, the curry divinely perfumes all dishes, meats, fish and even vegetables. It does have some health benefits, so if you like it don't deprive yourself of it. The quality of the meat brings all its value to your dish. Leave it to grill a few moments before putting your meat in this way it will divinely flavor your pork curry with mushrooms. This year the meadow mushrooms were rather abundant, I froze a maximum of them, a bag of small rounds, a bag of minced and a bag of rounds cut in quarters. I served my mushroom pork curry with Arborio rice cooked for just 15 minutes in plenty of water.
Ingredients
Pork curry with mushrooms recipe for 2 people:
800 gr of sautéed pork
1 handful of chopped onions
150 gr of frozen field mushrooms
1 tablespoon of olive oil
1 teaspoon of curry
1 tablespoon of soy sauce
4 turns of nutmeg mill
1 tablespoon of Cornstarch Sauce
Instructions
Sear the frozen mushrooms and onions in a dry pan
As soon as they have given up their waters add the oil.
Sear the meat in hot oil.
Sprinkle with curry.
Pepper and nutmeg.
Pour in the soy sauce.
Pour in the cream and let reduce to a simmer.
Preparation time: 20 minutes
Cooking time: 10 minutes
Number of people: 2
4 star rating: 1 review
What wine to drink with: Pork curry with mushrooms
My favorite wine for this recipe: Côte de Brouilly Grape gamay
Temperature between 13 ° and 14 °
Sear the mushrooms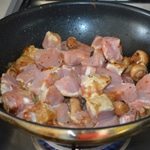 Sear the meat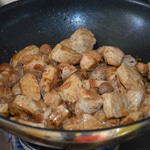 Seize on all sides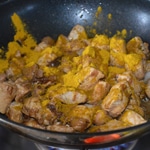 Add the curry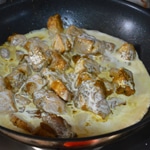 Cream