Instructions
Stuffed pasta recipes, I had seen a recipe like this I do not know on which magazine, and it had me excited. A nice recipe made of sweetness, not spicy enough for me, I would have liked it to be slightly more spicy. Nothing like finishing off the leftovers of a royal sauerkraut, it's true they are always too generous and there is often charcuterie left. I added a little beef, I like to use this meat in my stuffing. Pasta at home is an institution, be careful I am expected every time around the bend, they are uncompromising they must be perfect and I like this challenge.An easy recipe to make but with a great flavor, you will enjoy yourself . Recipe ingredient:
Recipe for 4 people:
150 gr of beef
100 gr of leftover sauerkraut meat
250 gr of lumaconi
1 teaspoon of paprika
For the homemade béchamel sauce
50 gr of Comté
50 gr of butter
50 gr of flour
50 cl of milk
½ can of peeled tomato
125 gr of mozzarella
Instructions
Cook the pasta in a large volume of boiling water.
Heat the butter with the flour for the béchamel sauce.
Gradually add the milk, when ready pour half the tomatoes.
Grate the Comté then add half of it off the heat.
Pour half of the béchamel sauce into a baking dish.
Chop the meats with the mozzarella.
Add the rest of the tomatoes.
Place the stuffing in a pocket fitted with a large smooth nozzle.
Sprinkle with paprika.
Salt and pepper.
Add the homemade béchamel sauce.
Generously stuff each dough.
Sprinkle with the rest of the Comté.
Place in the oven for cooking at 170 ° for 30 minutes.
Preparation time: 45 minutes
Cooking time: 30 minutes
Number of people: 4
4 star rating: 1 review
What wine to drink with: Stuffed pasta
My favorite wine for this recipe: Côte du Rhône Cépage Syrah, Grenache noir, Cinsault
Temperature between 15 ° and 16 °
Prepare the stuffing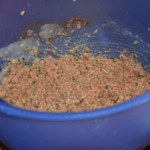 Mix the stuffing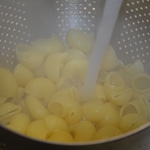 Cook the pasta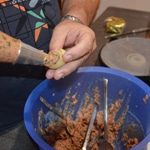 Stuff the pasta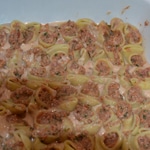 Add cheese