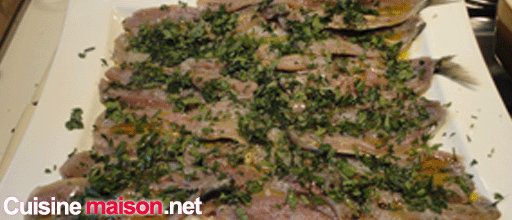 Barbecue Sardines Recipe
Summary : Sardines on the barbecue, with this sun we had lunch outside. Barbecue sardine recipe flavored with chopped mint, grilled with a round trip, the sardines are ready for tasting No need to empty the sardines for this recipe, I chose fillets. The grilled sardines on the barbecue, it's summer, the neighbors are invited to avoid any conflicts. We really like the Sardines on the barbecue, and too bad for the neighbors we invited them it was easier.
Sardines barbecue recipe for: 4 people
Ingredients :
450 g sardine fillets
4 tablespoons of olive oil
1 bunch of peppermint
1 pinch of Espelette pepper
Salt and pepper
Instructions
Place the sardine fillets skin-side down on the plate.
Season the sardine fillets with salt and pepper.
Place the olive oil on all the sardine fillets.
Season with the Espelette pepper.
Rinse the peppermint and dry them with paper towels.
Chop the peppermint very finely.
Spread the mint on the sardine fillets
Leave to marinate for a small ½ hour.
Cook on the barbecue plancha.
Preparation time: 10 minutes
Cooking time: 5 minutes
Number of people: 4
4 star rating: 1 review
What wine to drink with: BBQ sardines
My favorite wine for this recipe Sancerre rouge Grape variety: Pinot Noir
Temperature between 15 ° and 16 °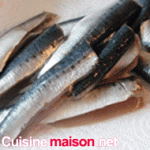 Nets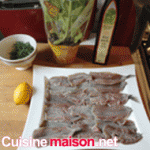 Tidy up the nets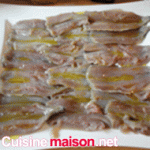 Oil the fillets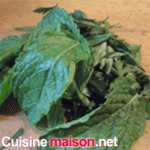 Rinse and dry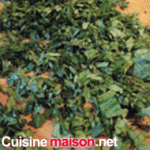 Chop the mint