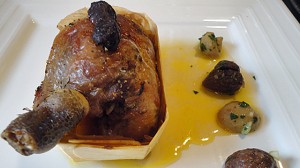 Recipe: Guinea fowl thighs stuffed with foie gras
Baked guinea fowl recipe for the end of year celebrations, for this roasted guinea fowl, I chose to make a foie gras sauce. I only used guinea fowl thighs that I had boned by my butcher. Guinea fowl thighs stuffed with foie gras, a main course that remains reasonable in price. Recipe 2010 souvenir
Recipe ingredients
Guinea fowl thighs stuffed with foie gras recipe for 4 people
4 guinea fowl thighs (to be boned by your butcher)
100 gr of butter
60 gr of foie gras
1 teaspoon of armagnac
80 gr of foie gras
40 gr of Paris mushrooms
40 gr of peeled chestnuts
2 slices of stale bread
1 teaspoon of olive oil
2 sprigs of flat-leaf parsley
10 cl of white wine
Salt and pepper
Instructions
Prepare the mushrooms, then dry them with food paper.
Wash and dry the flat parsley.
Roughly chop the parsley and mushrooms with a knife.
Dip the breadcrumbs with half the white wine.
Brown the preparation with the chestnuts in the oil over medium heat for 5 minutes.
Add the breadcrumbs and cook for another 5 minutes. Mix all the preparation.
Spread the preparation on each thigh, add a piece of foie gras and roll your thigh so that the back is above.
Salt and pepper.
Place the thighs in the wooden box or ramekins.
Bake in a hot oven for 35 minutes at 180 ° washed down at least twice with the cooking juices.
Preparation time: 45 minutes
Cooking time: 35 minutes
Number of people: 4
4 star rating: 1 review
What wine to drink with guinea fowl legs stuffed with foie gras
My favorite wine for this Volnay recipe Grape variety: Pinot noir
Temperature between 15 ° and 16 °
What wine to drink with: Guinea fowl thighs stuffed with foie gras
My favorite wine for this Volnay recipe Grape variety: Pinot noir
Temperature between 14 ° and 16 °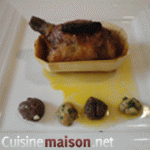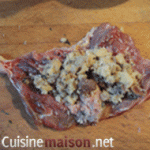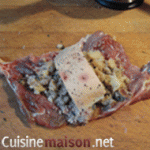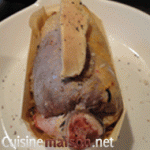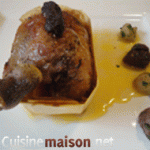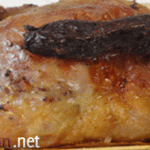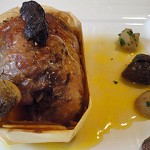 Temperature between 15 ° and 16 °