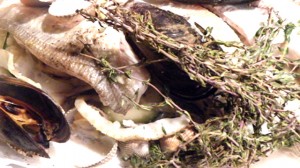 Recipe: gurnard papillote
Gurnard papillote recipe. Fish in foil at home we love this cooking where the fish will be flavored during cooking with the ingredients of the straw hut. Here is an easy fish recipe, it can be made in a few minutes. Gurnard recipe with scallops, mussels, roosters. With this gurnard fish you will find a papillote with mussels, but also scallops and finally Paris mushrooms, an almost complete meal.
Recipe ingredients
Gurnard papillote recipe for 4 people
12 small gurnard fillets
12 mussels
12 shells
3 scallops
8 button mushrooms
1 fennel
1 zucchini
1 bunch of fresh thyme
4 tablespoons of semolina
4 tablespoons of white wine
Instructions
Leave the cockles to drain for 1 to 2 hours in clear water.
Clean the mussels, prepare the scallops.
Cut 4 sheets of baking paper to make your papillotes.
Cut the zucchini into small slices and arrange them on the paper.
Add the semolina and finely sliced mushrooms.
Slice and arrange the fennel, place the 3 fillets on the vegetables and thyme, finish with the cockles, mussels and the scallops.
Add the white wine and salt and pepper and seal your papillote tightly.
Bake for 11 minutes in a hot oven at 200 degrees.
Preparation time: 15 minutes
Cooking time: 11 minutes
Number of people: 4
4 star rating: 1 review
What wine to drink with: Papillote de gurnard
My favorite wine for this recipe: Sancerre (Dry white) Grape varieties: Pinot noir, Sauvignon blanc
Temperature between 8 ° and 9 °