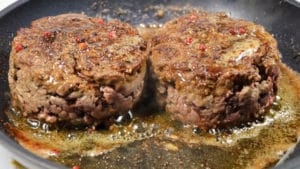 I was seeing my brother who had a hip prosthesis operated on at the hospital for several days, he wanted to eat beef. I went to my butcher two days before to get a nice piece of beef, which I left to stale a bit in my refrigerator. I really like the beef, especially with a blue cooking where the middle is still almost raw barely hot, of course if you are not meats, make less generous steaks. Cooked in foamy butter, well seasoned with freshly crushed peppercorns, just before cooking and coarse Guérande salt, this homemade minced steak is a real killer.
Homemade ground steak recipe for 2 people
Ingredients :
600 gr of beef (pear or whiting)
1 teaspoon ground pepper
A pinch of fleur de sel
50 g butter
Instructions
Take out the meat 1 hour before preparation.
Slice the piece of beef into large pieces.
Chop in a chopper with the large grid.
Fill a circle without packing the meat too much.
Press the meat a little into the circle.
Heat a pan with the butter.
Crush the pepper and sprinkle on one side.
Add the steaks to the butter as soon as it starts to foam
Monitor the cooking, when it changes color by 1 cm.
Flip the steak.
Season with pepper and salt on the cooked side.
Drizzle regularly with the foaming butter.
Enjoy immediately, so that the steak does not crumble.
Preparation time: 10 minutes
Cooking time: 3 minutes
Number of people: 2
4 star rating: 1 review
What wine to drink with: Homemade ground steak
My favorite wine for this Châteauneuf du Pape recipe Grape varieties: Grenache, Syrah, Mourvèdre
Temperature between 15 ° and 18 °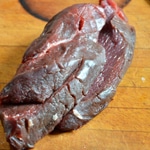 Take out the meat an hour before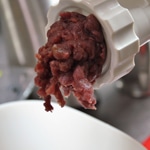 Chop the meat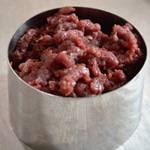 Mold the steak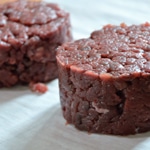 Ready to cook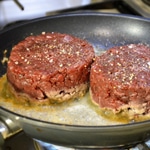 The cooking