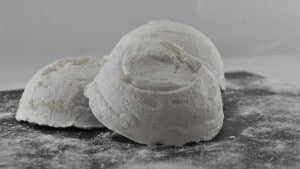 Meringue sphere recipe
Instructions
Meringue sphere, here is a great idea to present a dessert, the meringue sphere will allow you to have a crunchy side for your dessert. I made an Italian meringue to make my shells, after multiple attempts, a lot of patience for this result. But I will still persevere for this meringue baked in molds, of course I will keep you posted. But already I can tell you that crunchy chocolate meringue and ganache are death for dessert. Meringue sphere, I can already imagine all the possibilities that I will develop with this technique. We loved eating all the poorly molded meringues, but then be careful …….
Recipe ingredients
Recipe for 4 people:
125 gr of egg white about 3
250 gr caster sugar
1 teaspoon of vegetable oil, for me hazelnut
Instructions
Preheat the oven to 110 °
Barely oil the bottom of the molds with a brush to facilitate demolding
Heat the water and add the sugar as soon as the syrup reaches 110 °
Start to whip the egg whites until stiff.
Raise the temperature up to 122 °.
Gently pour in the syrup without touching the sides of the mixer.
Beat until the device has dropped to 50 ° or you can put your hand.
Pass the Italian meringue in a pocket, no need for a piping tip.
Apply the equivalence of a clementine in each impression.
Using a large spoon, lift the meringue along the wall.
Level the top of the mold with a spatula.
Bake 3 hours at 110 °
Preparation time: 20 minutes
Cooking time: 180 minutes
Number of people: 4
4 star rating: 1 review
What wine to drink with: Sphere of meringue
My favorite wine for this recipe: I am not offering you wine this time, indeed everything will depend on the accompaniment.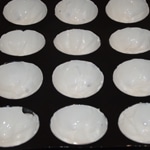 Fill the shells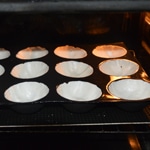 Bake in the oven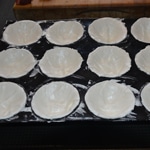 Cooked meringues